Injustice 2 Is Getting An Online Beta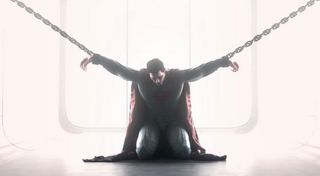 NetherRealm Studios may have set the release date in stone for Injustice 2 but they still haven't revealed all of the roster yet. Well, gamers may get to see more than they've seen before thanks to an online beta rolling out for the upcoming superhero-themed fighting game.
Over on the official Injustice website there's a registration page now setup that allows gamers to put in their info and hope to get recruited to participate in the beta. The online registration requires your e-mail address, your first name, your last name, whether or not you want to play the beta on the PS4 or Xbox One, and your country.
You will have to agree with the beta license agreement and the Warner Bros., privacy policy, along with agreeing to receive news updates and info from Warner Bros., and their affiliates, but after you go through all of those formalities you'll be eligible to be picked to participate in the Injustice 2 beta.
They have zero information at all on what the beta will contain or who will be present in the beta. Only some of the roster have been confirmed to appear in the game, including Batman, Superman, Wonder Woman, Aquaman, and the Flash, along with Deadshot, Harley Quinn, Supergirl, and Gorilla Grodd to name a few. The most recent trailer for Injustice 2 featured the revelation of additional characters to the roster, including Robin, Darkseid, Bane, Braniac and Poison Ivy.
A lot of gamers have been asking for Poison Ivy to join the roster, especially ever since she gained a lot of popularity during her recent appearance in Rocksteady's Batman: Arkham series. We'll finally get to see NetherRealm's take on the popular, poisonous vixen in their upcoming title. This would also help fuel some hype for Poison Ivy's appearance in the Gotham City Sirens film as well.
It's likely that the beta will only feature a select number of fighters with a limited number of customization features. If I had to take a guess on who would be playable it would likely be a small offering of new and old fighters. They would likely go with Batman, Supergirl, Wonder Woman and maybe either Gorilla Grodd or Atrocitus to round out the beta characters.
They'll probably want to test some of the new fighters to ensure that they're balanced well over a long period of play, and get gamers to push some of the new blood to their limits so they can squash bugs and optimize any glitches.
They'll also likely want to add some of the old fighters from the first Injustice in the beta to help test them against the new fighters in order to fix any new glitches or bugs. I imagine they'll also want to balance test the new armor feature that allows players to unlock new armor pieces for the heroes where they can be outfitted with stat-variant gear that can drastically alter how the characters play during combat.
With the release set during the spring, on May 16, the beta is a great way to get a grasp on what the gameplay is like ahead of release. Keep an eye on your e-mail for details on the beta if you do decide to sign-up.
Your Daily Blend of Entertainment News
Staff Writer at CinemaBlend.
Your Daily Blend of Entertainment News
Thank you for signing up to CinemaBlend. You will receive a verification email shortly.
There was a problem. Please refresh the page and try again.