Injustice 2 Celebrates Valentine's Day With Beautiful Women Who Will Kick Your Ass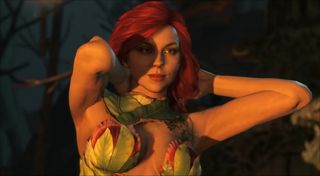 For Valentine's Day NetherRealm Studios decided to give gamers something special... some beautiful women who will show you strength during your time of weakness; resolve during your time of uncertainty; and will kick your ass if you're not careful.
The latest Injustice 2 trailer was posted up over on the Injustice YouTube channel, where they rolled out a video just over a minute and a half long featuring some of the femme fatales in the upcoming fighting game.
The trailer starts with a collage of some of the female fighters in the game, including the reveals for Catwoman and Cheetah, the latter of which is a nice addition to the roster from Wonder Woman's side of the rogue gallery.
We first get a cool little comic book-style compilation for Black Canary, who makes it known that she fights crime and doesn't commit it. We see her unleashing various combos and special attacks, along with screeching down her opponents with some devastating sound waves.
The Injustice 2 trailer proceeds onward with Cheetah, who uses her claws to scratch, claw and slice through her opponents. We don't get to see too much of NetherRealm's rendition of the character, but they gave her a more tribal feral design, sporting a loin cloth and some leather chest bands. There's also a pretty funny interaction between Cheetah and Catwoman, where the former tells the latter that she's too "domesticated".
Here we get to see NetherRealm's take on Catwoman for Injustice 2, who appears to be an actual mix between Telltale's Catwoman from the Batman: The Telltale Series and Rocksteady's depiction of the feisty feline from Batman: Arkham City.
We also get our first real gameplay glimpse of Poison Ivy... who "wows" once she steps on to the screen. She's definitely more of a throwback to the Batman: The Animated Series and comic book renditions of the character as opposed to the more poisonous look that Rocksteady gave her. She has a very sensual air about her gait that actually befits the way she uses the plants throughout the game.
The comment section for the Injustice 2 video also lit up, as a lot of other people also loved what they've done with Poison Ivy. It's not hard to see that they put a lot of time and energy into the design of the character, and lovingly crafted a move and animation set that really fits her perfectly.
Others were a bit disappointed that Catwoman didn't have her goggles on, but I'm assuming people tend to forget that you can unlock gear for each of the heroes/villains and I'm almost 100% sure her goggles for that outfit can be unlocked and placed atop her head.
A few people were disappointed that Starfire and Vixen weren't part of the montage, but can beggars really be choosers when they unveiled gameplay for Catwoman, Poison Ivy and Cheetah? There are certainly more characters yet to be announced.
You can look for Injustice 2 to launch on May 16th for the Xbox One and PS4.
Your Daily Blend of Entertainment News
Staff Writer at CinemaBlend.
Your Daily Blend of Entertainment News
Thank you for signing up to CinemaBlend. You will receive a verification email shortly.
There was a problem. Please refresh the page and try again.