Early Versions Of The Nintendo Switch Have Been Stolen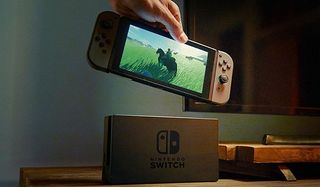 The Nintendo Switch is set to launch in less than two weeks, but that apparently wasn't soon enough for some folks. As Nintendo is reporting, some of the home/portable console hybrids have now been stolen and sold illegally.
The Nintendo Switch was already going to be in short supply, and now we've got a bunch of yahoos stealing the things and likely ruining the day of quite a few folks who thought they had secured a pre-order.
As is being reported by Gamespot, a number of unboxing videos for the Switch popped up online this past week, with folks showing off the console for the first time. Similar videos of the Switch's interface started making the rounds, too. It's important to not that these videos aren't from Nintendo themselves or established games sites, vloggers or anything like that. They're just clips from average folks who got their hands on the console early.
That prompted Nintendo to look into what exactly was going on, which is when they discovered that a shipment of the Switch consoles had been stolen from one of their US distributor partners and sold illegally.
According to a statement from Nintendo, the folks responsible for this mishap have been fired and are currently being investigated by the authorities. Nintendo makes note that this was a "small number" that went missing and, as of their comment, only one console could be confirmed as illegally sold. As for those investigations, the people responsible are being looked at for criminal charges because.
In a not-so-subtle way, Nintendo is encouraging everyone to just ignore any unboxing videos and have patience for just a little while longer. The Switch launches everywhere on March 3 which, again, is less than two weeks away. Nintendo encourages everyone to just hold tight and "discover the wonders of the new system for themselves."
We agree with Nintendo wholeheartedly on this one. We've waited this long for the Switch, so what's the point in ruining that anticipation when the console is just around the corner from being out in the wild? Here's hoping Nintendo is able to get some additional consoles to that retailer so nobody who was waiting patiently on the Switch will be left in the cold because of some half-wit crooks. Which we suppose is the lesson in all of this, that we're surprised anyone needed help understanding: When you're talking about a brand new console coming from a massive company that has put an untold amount of money into developing and marketing the thing, they will absolutely notice if even "only a small number" of the things disappear off the back of a truck. Probably not worth it in the long run, but we'll have to wait and see what the investigation turns up.
Your Daily Blend of Entertainment News
Staff Writer for CinemaBlend.
Your Daily Blend of Entertainment News
Thank you for signing up to CinemaBlend. You will receive a verification email shortly.
There was a problem. Please refresh the page and try again.