How You May Be Able To Get A Nintendo Switch On Launch Day, Without A Pre-Order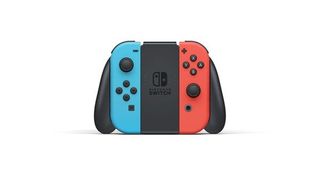 (Image credit: Nintendo)
The March release for the Nintendo Switch is fast approaching. The device has been sold out just about any and everywhere where pre-orders are being taken. Well, there may be a way to get your hands on the Nintendo Switch come launch day... even without a pre-order.
According to Polygon, GameStop will have a select number of Nintendo Switch devices on-hand, in-store. They've been advertising that they will have midnight launch events for the Nintendo Switch, where customers who weren't able to secure a unit via pre-order are encouraged to stop by the store during the launch event and attempt to pick up a unit in person.
That's a dangerous move from GameStop because pre-orders for the Nintendo Switch have been sold out since they went live, and so far there doesn't appear to be any replenished stock since Nintendo's January 12th presentation last month. Advertising that they will have Switch units in-store likely means that only a handful of people attending the midnight launch will be able to get their hands on the device. If the limited pre-orders continue as they have, then it means there could be dozens of people lining up outside of their local GameStop in order to get a Switch. Best camp out early if that's going to be the case.
Polygon also noted that GameStop has two limited quantity bundles as well, one featuring the Nintendo Switch, a Switch Pro Controller and the Legend of Zelda: Breath of the Wild all for $429.99. That's a combined price of what you would pay if you paid for each item separately, since the Pro Controller is $70, The Legend of Zelda: Breath of the Wild is $60, and the Nintendo Switch is $300. The bundle price is literally identical to what you would pay if you bought each one individually. The second advertised bundle replaces the Pro Controller with a strategy guide.
If you check GameStop's catalog they also reveal they have several other not-so-cheap Nintendo Switch bundles, including one for $637.99, another for $437.99, and another for $509.99. All of their bundles are currently sold out. The same applies to Amazon as well.
A lot of gamers are expecting to see the Nintendo Switch appear on eBay for an absurd price, which is what happened with the original Nintendo Wii when it first launched. Scalpers made thousands of dollars on the Wii due to the fact that Nintendo just couldn't keep them supplied.
The company is expecting to ship up to 2 million SKUs through the launch window. Pre-orders had already sold out during the SKU announcement, leading a lot of people to question if it meant that the 2 million figure had been fulfilled ahead of launch. Other rumors indicated that Nintendo could be moving up to 10 million SKUs by the end of 2017. According to DFC Intelligence, they estimated that if the Switch's sale momentum is as strong as some analysts have been estimating, then it could have 40 million units shipped by 2020, as reported by GameZone (opens in new tab).
All of that forward-looking talk is kind of pointless in the interim, though. Most customers just want to be able to get their hands on a Nintendo Switch at launch, and if what GameStop is saying is true, it sounds like some lucky people might just be able to walk into a store and pick one up. We'll see if things turn out as smoothly as that when March 3rd rolls around.
Your Daily Blend of Entertainment News
Staff Writer at CinemaBlend.
Your Daily Blend of Entertainment News
Thank you for signing up to CinemaBlend. You will receive a verification email shortly.
There was a problem. Please refresh the page and try again.