Xbox Game Pass Was Bad News For One Company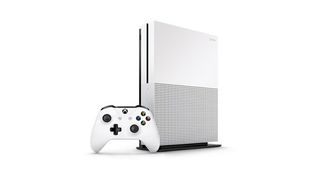 Microsoft recently announced a new digital game service for the Xbox One called the Xbox Game Pass. It allows you to gain access to a catalog of games for only $10 a month. It's similar to the EA Access program. Following this news, though, one company's shares dropped drastically.
According to Gamespot there was a precipitous fall from grace on the stock market for GameStop's shares. Venture Beat noted that there was a 7.8% drop in the share price from when it opened earlier in the day.
So why did the shares drop so viciously for GameStop? Well, Gamespot (and shareholders, apparently) presumed that Microsoft offering monthly access to various games for just $10 would negatively impact GameStop's pre-owned game sales. The idea is that older titles in the Xbox One's library will be accessible for a flat-rate of just $10 a month, and, at that price, people may avoid buying used games and would instead just pay the $10 a month.
They note that the catalog includes some fairly high profile titles, including Halo 5, Mad Max, Saints Row IV and Payday 2 to name but a few. Much like the EA Access program, Microoft will be updating the catalog monthly, adding in new and old games alike, along with making Xbox 360 backwards compatible titles available as well.
The response has been mixed from the gaming community. Xbox gamers clearly love the idea of paying a flat fee and having access to a large library of Xbox 360 and Xbox One games. Others, however, aren't quite convinced that this is what's best for the industry, even if it's what's best for business.
For instance, many gamers pose the question: what happens to the library of games once the server goes down?
Good question.
Now, unlike PlayStation Now, the Xbox Game Pass does not require you to stream games from the cloud. It's similar to EA Access, where once you pay the subscription fee, you can download the games to your library and continue to play them so long as your account is active.
While some shareholders are obviously panicking -- and even though GameStop has not issued a statement on the matter yet -- there are a lot of factors many people seem to be ignoring or missing as far as quality of life features are concerned. For one, digital only services means that you need to have a strong broadband connection to make use of it. If you don't have broadband or good broadband speeds, it's kind of a moot point.
Additionally, your ISP service caps will either need to be really high or not present. Many people under companies like Comcast are data capped. If you exceed the cap then you have to pay a pretty high premium, up to $200. So if you have a 25GB cap or even a 250GB monthly cap, you may not be able to make full use of the Xbox Game Pass as you might like.
And, speaking of pricing, this is $10 a month on top of Xbox Live Gold service fees. So it's an added cost for those who may already be paying to play their games online.
Last, but not least, is ownership. You don't have any ownership over the games you lease from the Xbox Game Pass program. Once your account is no longer active, you no longer have access to those games. It's a huge difference from paying $10 for a pre-owned title from GameStop that you get to keep.
Nevertheless, we'll have to wait to find out if there are enough people to get on board the Xbox Game Pass program, and to see if it's successful enough to actually put a real dent in GameStop's pre-owned business.
Your Daily Blend of Entertainment News
Staff Writer at CinemaBlend.