Nintendo Switch Will Get Media Apps, Eventually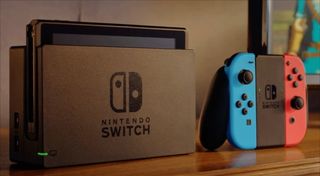 (Image credit: Nintendo)
One of the big concerns from many reviews put out by major media outlets for the Nintendo Switch centered around the system's lack of media apps available at launch. Well, Nintendo has finally chimed in on the matter after being reticent for so long, and it appears the Nintendo Switch will get media apps... eventually.
Polygon notes that in a recent interview with the Washington Post, Nintendo of America president Reggie Fils-Aime explained that Nintendo has altered their view on media apps for the Nintendo Switch. It went from a "let's see" to an "eventually". According to Reggie, the launch window for the Switch is all about how the system differentiates itself from the competition on the market, he explains that this doesn't mean that media apps are off the table, they just aren't a priority...
So these apps "will come in time", which is a heck of a lot better than the more opaque answer given a few months ago. We pretty much knew that the Nintendo Switch wasn't going to launch with a media browser or third-party app support right out of the gate. Nintendo seemed focus on putting out the system as a game machine first and anything else second. In the case of that second... they're literally delaying apps for the system until they feel the time is right.
Besides, the biggest concern for the Nintendo Switch isn't whether or not you can use it like a tablet, but whether or not it has worthwhile games.
The common complaint is that it needed a stronger line-up of launch titles. It's true that outside of The Legend of Zelda: Breath of the Wild, there isn't really much else to keep gamers glued to their Switch, whether they're playing it in the portable mode on the go, or with it lodged into the dock at home.
Nintendo plans on following up on the release of games like 1-2-Switch, Snipperclips and The Legend of Zelda: Breath of the Wild with first-party heavy hitters like Mario Kart 8: Deluxe in April and Splatoon 2 in the summer.
There doesn't appear to be any ETA on when third-party apps like Hulu and Netflix will become available, but gamers will apparently have to keep an eye out for them.
Unsurprisingly, the commenters on the Polygon article seem rather ambivalent to the idea of having third-party apps available for the Nintendo Switch at launch. Their biggest concern is getting more high-quality games on the system. No one seems terribly distraught that the Nintendo Switch lacks a Netflix app at the moment. In fact, many of the commenters were absolutely shocked that Netflix was available on the Nintendo 3DS. I guess it just goes to show how well those kinds of apps were marketed or even used on the Nintendo handheld.
Your Daily Blend of Entertainment News
Staff Writer at CinemaBlend.