Persona 5 Disables The PS4's Share Button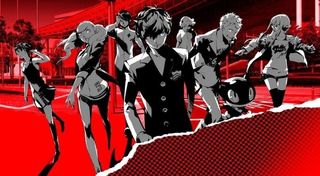 (Image credit: Atlus)
One of the key selling points of the PS4's DualShock 4 controller for this generation of gaming is that it has the ability to instantly snap and share content from a game, whether it's a short movie or a still image. Unfortunately, this share feature has been disabled for Persona 5 on the PlayStation 4, and the publishers explained why.
According to Polygon, Atlus has revealed that in the original Japanese release of Persona 5, the share button on the DualShock 4 is disabled. Why? Because they didn't want people spoiling the story.
According to a representative for Atlus, they informed Polygon about the method behind the madness in disabling one of the key features of the PlayStation 4 -- and limiting the ability to take Persona 5's in-game content to social media -- saying...
Very interesting turn of events.
This, of course, does not affect people using capture cards to record their playthrough of Persona 5 from the PlayStation 4 and uploading it through livestreaming sites like Twitch.tv or YouTube Gaming.
You can still see Persona 5 plastered all over YouTube; complete walkthroughs, in fact. The game came out back in September 2016 in Japan and has been undergoing the arduous localization process under Atlus' supervision for a Western release. Now the game is about to launch on retailer shelves and on the PlayStation Store via digital distribution on April 4th,
So, why so much secrecy?
Well, according to the Japanese development studio, since the game only has a single playthrough they didn't want everyone spoiling everything on social media by posting up story content ahead of the game's release in the Americas and Europe.
As noted by Polygon, though, people still took screenshots of the game and posted them on social media. But, how did they snap screenshots when the PS4's share button is disabled in Persona 5? Well, easy... they used their cellphones.
Some gamers were so desperate to share what they've discovered in the latest Persona they would take off-screen snapshots and post them up on social media.
According to the article, Atlus' Japanese branch will not be enabling the share function in Persona 5 even after it releases in the West. For some reason they really want to safeguard and protect the story as much as possible by forcing gamers to go in blind, assuming that those same gamers didn't already spoil a lot of the game by watching YouTube videos.
The highly acclaimed JRPG from Atlus is scheduled to arrive on store shelves in the West on April 4th. The early reviews for this newest Persona title has already received sparkling scores for its content, story and the creative use of splash comic graphics. Of course, you just won't be able to share any of that stuff using the PS4's share button.
Staff Writer at CinemaBlend.
Your Daily Blend of Entertainment News
Thank you for signing up to CinemaBlend. You will receive a verification email shortly.
There was a problem. Please refresh the page and try again.