Persona 5 Coming In 2014 Along With Three Other Persona Games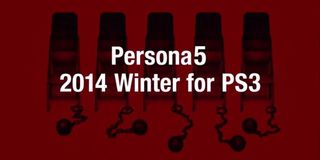 PlayStation owners have several new Persona games to look forward to. Developer Atlus announced Persona 5, Persona 4: Dancing All Night, Persona Q: Shadow of the Labyrinth and Persona 4: The Ultimax Suplex Hold on Saturday evening.
P4: The Ultimax Suplex Hold is a revamped version of Persona 4 Arena, a fighting game spin-off for the RPG series. Ultimax Suplex Hold will add three characters to the roster: Yukari Takeba and Junpei Iori from Persona 3, as well as a new character named Sho Minazuki. Sho is a red-headed young man with a scarred face who wields two blades in combat. Tohru Adachi from Persona 4 will make an appearance but it's not clear yet whether he's going to be playable.
Atlus is also altering the characters carried over from P4 Arena. The cast has been rebalanced and have new abilities at their disposal. They can unleash charged-up attacks with the new S-Hold feature. Additionally, Atlus is adding Shadow versions of several characters with higher damage but lower defensive capabilities.
Ultimax Suplex will debut in arcades throughout Japan this month. PS3 gamers will have to wait substantially longer, though. Atlus is currently targeting a summer 2014 release.
3DS gamers, meanwhile, will get Persona Q: Shadow of the Labyrinth. In this spin-off, Persona 4 and Persona 3 characters must escape from Yasogami High School. The game can be played from the perspective of the Persona 3 characters or Persona 4 team. The dialogue and plot will vary depending on your decision. The original cross-over storyline is accompanied by a new "chibi" art style. Shadow will hit the 3DS on June 5th, 2014.
Persona 4: Dancing All Night is a rhythm action game for PlayStation Vita. It features P4 characters like Rise Kujikawa and Yu Narukami. Players will dance their asses off and battle shadows. If nothing else, it should be the weirdest Persona game ever released. Look for Dancing in autumn 2014.
Very little is known about Persona 5 at this point. Presumably it's a role-playing game like the other main entries in the series. The director is Katsura Hashino, who also directed Persona 3 and Persona 4.
The teaser trailer shows a line of chairs with shackles underneath them. The tagline reads, "You are a slave, want emancipation?" It closes with the release window: Winter 2014.
I imagine PS4 owners are a bit bummed that Persona 5 isn't coming to their console. There aren't any role-playing games available for the PS4 yet. Still, you can't blame Atlus for targeting the older console with the much larger player base. Perhaps they'll make a next-gen port somewhere down the road, though?
One thing to note about all this announcements is that they're for Japan. It's not clear when and if these games will come to North America or Europe. Atlus generally does bring their Persona games westward though so there's reason to be optimistic.
Staff Writer at CinemaBlend.
Your Daily Blend of Entertainment News
Thank you for signing up to CinemaBlend. You will receive a verification email shortly.
There was a problem. Please refresh the page and try again.