A Major Persona 5 Announcement Is Coming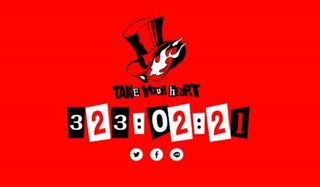 If you're looking for more information on Persona 5, you can now find out exactly how much longer you have to wait. The game's Japanese website has a countdown clock that is currently ticking away, though what it is going to reveal when the timer hits zero is anybody's guess.
To get the latest tally, all you need to do is go to the Persona 5 website. Outside of logos for the game and Atlus, the site is occupied by a big red splash page, a rather simple image and, as we mentioned above, a clock that is counting down from 297 hours, 48 minutes and 36 seconds as of this writing. There's also a few buttons in case you want to share the page via social media sites like Twitter and Facebook.
The image is of a top hat and mask, which we've seen worn by a character in some of the game's stills and trailers. Sadly, I doubt this is a reimagining of Sailor Moon so, despite the similarities, it is not likely to beTuxedo Mask. All kidding aside, now that I think about it, a darker version of Sailor Moon told by the Persona team would actually be kind of radical.
The only other important (maybe) piece of information on the site is the single phrase, "Take your heart." We've not sure if that's a threat or a hint at what the countdown is crawling toward, but here's a look at the game in action if you need a reminder as to why you should be excited for Persona 5 in the first place.
Based on my highly scientific calculations, it looks like we've only got about 12 and a half days before the Persona 5 clock hits zero and we finally have some answers. Maybe we'll get a new trailer and a launch announcement? Maybe they're showing off special edition's of the game? Maybe this countdown will end with a link leading us to another countdown page, like some sick game to see how long they can keep stringing us along? Really, anything is possible at this point.
One thing seems to be for sure, though, and that is that Persona 5 will likely be the game to really make the series take off worldwide. The first couple of Persona games were cult favorites and Persona 3 and Persona 4 didn't make too big of a splash on the PlayStation 2. Their enhanced re-launches on the PSP and Vita, respectively, managed to capture a whole new audience. The critical and fan reviews were both off the charts, creating great buzz for the series.
I'm guessing that Persona 5 will (obviously) be a big hit with long-time and more recent fans of the series, while more folks than ever take this opportunity to introduce themselves to the series.
The series also looks to be evolving nicely in this next outing, with all of the style-savvy characters and insane narrative you would expect out of a Persona game, complemented by dungeon diving that's a little less repetitive.
Here's hoping that the team nails it with Persona 5 and that whatever this countdown clock is winding down to will be worth the wait. See you on May 5.
Staff Writer for CinemaBlend.
Your Daily Blend of Entertainment News
Thank you for signing up to CinemaBlend. You will receive a verification email shortly.
There was a problem. Please refresh the page and try again.