One Way Syberia 3 Will Change For The Nintendo Switch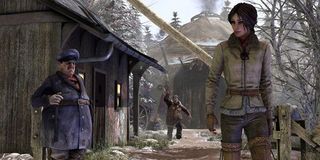 (Image credit: Microids)
Microids and Anuman Interactive are working on finishing up Syberia 3 so that they can ready the game for release on April 25th for home consoles and PC. One system, in particular, will be getting some special treatment for the game, and that's the Nintendo Switch.
According to an interview that WCCF Tech conducted with Elliot Grassiano, the VP of game production at Microïds, the company has plans on specifically tailoring the experience of the upcoming Syberia title for Nintendo's hybrid portable console.
Grassiano mentioned that they will be taking advantage of some Switch-exclusive features, saying in the interview...
This will be one of the first point-and-click adventure games releasing for the Nintendo Switch, and so it's nice to hear that Microids isn't just doing a straight port of Syberia 3 but actually putting in some time and effort to flesh out the game's mechanics to offer something unique for Switch players.
Oftentimes we see an issue where a lot of third-party developers simply do a straight port of a game and do very little in distinguishing the differences between the different platforms.
In this case, it appears Microids really wants to put the Nintendo Switch's HD rumble to use, which is one of the more popular features of the system and has proven to be quite the fan favorite in party games like 1-2-Switch.
Xbox and PlayStation owners won't be entirely left out of the loop, either. Microids does have some plans on the table for Xbox Scorpio and PS4 Pro support, but they didn't really go into detail about what sort of features gamers can expect to see on the high-end mid-gen refresh systems from Microsoft and Sony.
In the more immediate future, they're focused on shipping Syberia 3 for the Nintendo Switch, PS4, Xbox One, and PC.
According to Grassiano, gamers can expect a total of anywhere between 15 and 20 hours out of the gameplay experience. They also may have additional content planned post-release, but they aren't saying anything right now.
For Nintendo Switch owners, though, it's good news that Microids is at least taking advantage of the system's embedded features. Too often during the Wii and Wii U's tenure on the market, a lot of third-party developers just didn't bother utilizing half of the features that Nintendo implemented into their home consoles.
This time around Nintendo appears to be have broken through and it looks like some third-party developers will be at least utilizing some of the Switch's more unique characteristics. If they can continue to keep convincing more third-party developers to take a similar route that Microids is taking with Syberia 3, it can definitely help with maintaining the console's sales momentum.
Your Daily Blend of Entertainment News
Staff Writer at CinemaBlend.
Your Daily Blend of Entertainment News
Thank you for signing up to CinemaBlend. You will receive a verification email shortly.
There was a problem. Please refresh the page and try again.