How Much Money The Nintendo Switch Has Made In Its First Month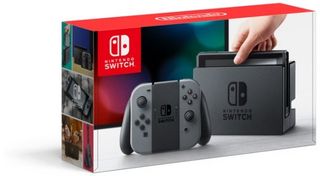 (Image credit: Nintendo)
The Nintendo Switch got off to a blockbuster start for Nintendo, selling crazy amounts of units within the month of March, and supply for the system has been constrained ever since. Nevertheless, they've still sold an insane amount of stock and made a lot of revenue in the process.
According to Gamespot, new estimates from research firm Superdata Research has revealed that Nintendo moved a total of 2.4 million units globally throughout the month of March. This would mean that they've made an estimated $720 million from the Switch, so far. Of course, this figure doesn't necessarily include bundled packages, which typically sold for $449.99. That adds a significant amount to the overall revenue pool.
Gamespot does note that these are estimates from Superdata, so accuracy may not be entirely 100%. They also mention that the firm has increased their total sales estimates for the Nintendo Switch throughout 2017 from 5 million SKUs to 7.2 million SKUs.
Both the estimates are rather modest given that their original estimate is so low that Nintendo has already surpassed the halfway mark in just one month. If sales continue on the upward trend then they could hit 5 million before April is out.
Even still, if they do manage to hit 5 million before spring finishes, then Superdata's estimates are still rather low, given that this would mean that the Switch would only move 2.2 million more SKUs throughout the remainder of 2017. To be quite frank, it's a rather insultingly low figure for fiscal 2017.
If momentum continues on its current trend, it's hard to see the Switch stopping at just 7.2 million. In fact, it would seem like it could hit 7.2 million by this fall. That's not even including the fact that they have another AAA heavy-hitter in Super Mario Odyssey due out during the holiday season.
Nintendo has reportedly ramped up production estimates to ship a total of 16 million SKUs throughout fiscal 2017, which ends in March of 2018. Given the upward sales trajectory of the Switch, this seems like a far more realistic figure than what Superdata has come up with, especially given that sales are likely to tick up strongly at the end of April when Mario Kart 8: Deluxe launches on the 28th.
Nintendo has plans on following up Mario Kart 8 with Splatoon 2 this July. They have a number of other games that they announced for the Nintendo Switch that will be made available throughout the rest of spring, summer and some titles leading into fall.
Nintendo has also been working with various development studios to get more third-party titles onto the Switch, including popular multiplayer cooperative games like Payday 2.
If Nintendo keeps supplies in check with demand, and they can manage to roll out a steady stream of software -- especially throughout May and June, both of which seem to be a little light on heavy hitters -- then they could easily topple that 7.2 million estimate set by Superdata in no time flat.
Staff Writer at CinemaBlend.
Your Daily Blend of Entertainment News
Thank you for signing up to CinemaBlend. You will receive a verification email shortly.
There was a problem. Please refresh the page and try again.