NES Classic Edition Has Been Discontinued In Two Major Countries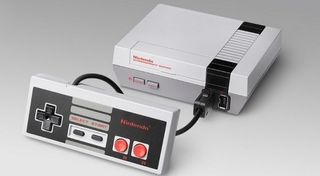 (Image credit: Nintendo)
Nintendo has previously announced that the NES Classic Edition was going to have its last shipment sent out in April here in America. Well, two more countries have joined in on having their last shipments sent out, too.
Nintendo Everything is reporting that in Australia and Italy the NES Classic Edition production has also been halted and no more units will be released in those regions for the foreseeable future.
The site posted the following statement from Nintendo, which reads...
This statement is a slightly altered version of the one that was made on the Nintendo of Japan site, where they stated that they would restart production at a later date and notify customers through the website when more units would be made available.
They didn't offer any sort of ETA on when production might resume, but it's suspected that the Famicom Mini might come back at some point later in the year in Japan.
The statement for the Americas was a lot more terse and uncompromising. They didn't make any mention about production being resumed, and they instead made it known that the NES Classic Edition was only designed to be released in limited quantities for a limited time.
The console came out back in fall of 2016, and it was a blockbuster product right out of the gate. 30 games for $60 was something a lot of people thought was excellent for the pricing and what you got. The tiny little console allowed you to play these classic NES games by simply hooking it up to your TV via HDMI.
It became so popular that some modders and hackers ended up expanding the NES Classic Edition's library, adding tons of additional NES games to the mini-console's stash. It was like a phenomenon all its own. In fact, they reportedly managed to move more than a million units of the NES Classic Edition.
The limited availability of the console also made it difficult to acquire from standard retail outlets. Scalpers began reselling the devices on eBay and Amazon for inflated prices, not unlike what's happening with the Nintendo Switch right now.
Despite Nintendo pulling the plug on one of their best selling products in recent years (next to the Nintendo Switch, of course), this has been seen as an odd move. However, the recent messaging for some of the territories that are no longer selling the NES Classic Edition appears to hint at the device possibly making a return at some point in the future. It would be silly for them not to at least explore that option.
Some suspect that Nintendo didn't want the NES Classic Edition cannibalizing sales of the Nintendo Switch, and this could be true given that they really need that console to sell a boatload to make up for the dire sales of the Wii U. Rumors swirl that the mini-console may make a return this holiday season, but Nintendo has been mum about any details regarding its return to the market.
Your Daily Blend of Entertainment News
Staff Writer at CinemaBlend.
Your Daily Blend of Entertainment News
Thank you for signing up to CinemaBlend. You will receive a verification email shortly.
There was a problem. Please refresh the page and try again.