Halo Wars: Definitive Edition Is Getting A Standalone Release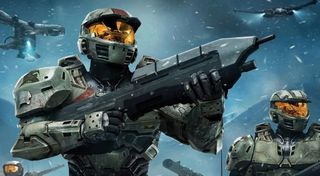 (Image credit: Microsoft)
Microsoft originally released Halo Wars: Definitive Edition as part of a bonus for those who pre-ordered the special edition of Halo Wars 2. It turns out that they've now decided to re-release the game as a standalone release apart from the RTS sequel.
Over on the official Xbox News Wire (opens in new tab), they announced that starting April 20th, you'll be able to pick up a separate copy of Halo Wars: Definitive Edition as a digital download from either the Xbox Store or the Windows Store. The game will be available for those on PC with Windows 10, or those gaming on home console via the Xbox One.
Previously, the game was only available for purchase as a pre-order bonus for those who picked up the Halo Wars 2: Ultimate Edition bundle. Of course, some gamers wanted to play the original Halo Wars on PC; the game had originally launched as an exclusive for the Xbox 360, where it was met with some moderately decent sales but nothing compared to what the average AAA title was moving on the 360 between 2007 and 2010. Microsoft shuttered Ensemble Studios, the original developers behind the first Halo Wars, and shelved the property.
Bungie also wasn't very fond of Halo Wars either, saying that Microsoft, at that point, was "whoring" out the Halo franchise. It wasn't too long after that that Bungie left Microsoft and began work on Destiny for Activision.
Microsoft, meanwhile, let the Halo Wars property simmer at a slow roast while acquiring the services of 343 Industries and Creative Assembly to put together a follow-up to the 2009 RTS outing. They eventually released Halo Wars 2.
The original game was well-received back in the day when it first released thanks to a lot of high-quality cinematics put together by Blur Studios, and a solid take on the RTS genre, despite being limited to controller use.
A lot of PC gamers back then begged Microsoft for a port of Halo Wars, but they never obliged... well, not until recently.
In an attempt to help bolster the appeal (and sales) of Halo Wars 2, Microsoft decided to re-release Halo Wars as a definitive edition and add in some extra content to give gamers a reason to dive back in. They also decided to make it available for the first time for PC gamers. The only issue was that Halo Wars: Definitive Edition was latched onto to Halo Wars 2, so if you were a PC gamer and you wanted to play the original game, you couldn't.
Well, now that you'll be able to grab Halo Wars as a standalone for PC, Microsoft also added a Xbox Play Anywhere component, so whether you buy the game from the Xbox Store or the Windows Store you'll be able to cross-play it across multiple devices, so long as you own those devices.
They also announced that Halo Wars: Definitive Edition contains full Steam Achievement support, so you'll be able to unlock Steam Achievements. A server browser has also been implemented for multiplayer games, so you'll be able to create, host and find multiplayer games with ease.
Staff Writer at CinemaBlend.
Your Daily Blend of Entertainment News
Thank you for signing up to CinemaBlend. You will receive a verification email shortly.
There was a problem. Please refresh the page and try again.