Exclusive GTA 5 Online Vehicles Are Now Available For Everybody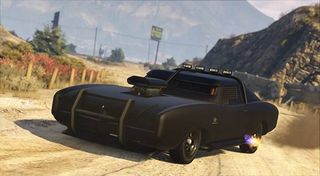 (Image credit: Rockstar Games)
Rockstar Games has decided to reward gamers by making certain special, exclusive vehicles available to everybody. These vehicles have been in GTA V and GTA Online for years now, but if you paid for them during the transition between last gen and current gen, you get an extra bonus.
Gamespot is reporting that Rockstar Games has made a series of vehicles available for sale to everybody playing GTA Online. The list includes the following vehicles:
• Marshall monster truck
• Dodo seaplane
• Kraken submarine
• Imponte Dukes car
• Declasse Stallion Car
• Blista Compact car
• Hatchet
All of these vehicles can also be accessed on the PC version by simply using the command line cheat codes for GTA V. However, in the online portion of the game you'll have to pay for them separately (unless you hack the game, but your account will be perma-banned if you do that). If you already purchased these vehicles during the transition between moving from the Xbox 360 or PS3 to the Xbox One or PS4, Rockstar will refund you for the DLC purchase.
For everyone else who never had access to the vehicles, you can purchase them from the online storefront for GTA V.
Rockstar is also discounting certain items between April 18th and May 1st, as a way to lure in gamers to make a purchase even if they aren't interested in the other previously exclusive vehicles. There are a number of other cars and upgrades that are discounted by 25% off now through May, including certain items such as body armor and ammo. They've also discounted special cargo warehouses by up to 50% off.
Additionally, you'll be able to earn double the money and experience points on all contact missions for the remainder of the month. It's a pretty big bonus for all the players in GTA Online, assuming you wanted to level up your character and earn some fat stacks right quick. They also have a premium race available that will run between now and April 24th, allowing the players who finish in the top three to earn additional RP and loot.
A lot of fans are a bit nonchalant toward the news due to the fact that the vehicles aren't particularly new, and making them available for sale to everyone seems a little late given that GTA V came out on the Xbox One and PS4 back in November, 2014. So, making vehicles that have been in the game for the past three years available to everyone wasn't the most well-received gesture from the community.
A lot of people have actually been begging Rockstar for single-player DLC, but given that they have plans on releasing Red Dead Redemption 2 this fall for the home consoles, it seems unlikely that Rockstar would put a lot of weight into a single-player DLC campaign when it could potentially draw heat away from Red Dead 2. Nevertheless, if you missed out on the exclusive car pack back when it was available as a transition bonus during 2014, you can pick up the vehicles right now from the cash shop.
Staff Writer at CinemaBlend.
Your Daily Blend of Entertainment News
Thank you for signing up to CinemaBlend. You will receive a verification email shortly.
There was a problem. Please refresh the page and try again.