GTA Online Is Offering Double Cash And RP For The Next Week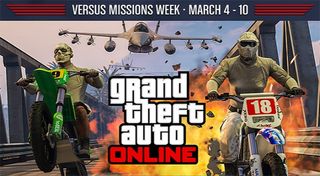 If you've been holding off on participating in GTA Online activities because it didn't seem like there was enough incentives to dive back into the fray, there's a new double RP and cash event going on for the next week that will grant players all sorts of bonuses just for participating in some of the events in the open-world action game.
Game Informer is reporting that Rockstar Games has announced you can get double the cash and double the RP (experience) in GTA Online from now up until next Thursday on March 10th.
The bonus experience and money will be handed out on all versus missions in GTA Online. So any missions that sees players having to go head-to-head against other players, it's completely possible to gain double of everything if you can manage to come out on top.
Now, not everyone enjoys versus matches in GTA Online. In fact, a lot of players were just recently complaining to Rockstar about the updates for the game centering around Adversary Modes instead of focusing on the more intense heists or other more complex cooperative missions. Rockstar has been updating the game frequently with a lot of Adversary Modes and not everyone is entirely pleased with that outcome, hoping that the company gets back to taking advantage of the eighth gen hardware by doing bigger and better missions that really puts the hardware to work.
Well, for those of you who are not fond of all the Adversary Mode missions, Rockstar has also announced that over the next week there will be discounts on a number of items so that those who show aversion to versus missions will still feel compelled to compete in order to get their hands on some deep discounts. For instance, all flight school gear in GTA Online is discounted by 50% off over the next week, while all helicopters and private jets are 25% off. All of the automatic weapons are currently 25% off their normal price and homing missile launchers and ammo are 30% off the normal price.
Gamers compelled to upgrade their arsenal or vehicular stash might be enticed with the discounts to try their hand at some versus missions.
Rockstar has been having special events and discounts in GTA Online for quite some time as a way to keep luring in more gamers, and getting those who aren't too keen on spending their hard earned cash to spend some hard earned cash.
For those of you still holding out hope that maybe there will be a story expansion released some time this year... keep holding out because it's still a possibility. That's not to mention that GTA V could have all new life breathed into it if Rockstar decides to release an expansion pack for the game the way they did with GTA IV with The Lost & Damned and The Ballad of Gay Tony.
In the meantime you'll just have to settle for discounts on weapons, cars and aircraft, and dealing with all of those versus missions that are currently handing out double RP and double cash.
Staff Writer at CinemaBlend.
Your Daily Blend of Entertainment News
Thank you for signing up to CinemaBlend. You will receive a verification email shortly.
There was a problem. Please refresh the page and try again.