Is There A New Thief Game On The Way? Here's What We Know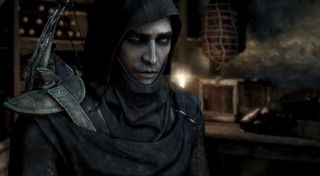 (Image credit: Square Enix)
After the last outing for Thief -- the 2014 outing that left hardcore fans feeling empty and gamers unfamiliar with the franchise unfulfilled -- there are hints pointing to a new Thief game being in development for the newest game systems and PC.
Over on the official production website for Straight Up Films, they've announced that there will be a movie tie-in game for Thief launching "in step" with the live-action film that's due out at some point in the near future.
According to the production note, they're calling the newest entry the "fifth sequel" in the ongoing Thief series. The newest game will work alongside the movie release, which will focus on taking place in a dark, steam-punk world. According to the note the film will be an action-adventure and it will focus on a new story centering around Garrett, the long-time hero of the series.
As much as I would love to get excited for the game (and movie), there's this tingling feeling in my inner gut that just keeps regurgitating the mnemonic taste of Sony's recent Assassin's Creed movie, which came out during the holiday season of 2016. The movie was based on Ubisoft's popular video game franchise, which has been waning in recent years in terms of its sales clout and the impression it has among the gaming community. It's almost identical to the game series Thief, which is what has me worried.
The last outing for Thief back in 2014 for the Xbox One, Xbox 360, PS3, PS4 and PC was anything but memorable, but it did manage to sell a decent amount thanks to being a cross-gen title. In fact, the game sold more than twice as much as Assassin's Creed: Unity and almost sold three times as much as Assassin's Creed: Syndicate on PC alone, according to Steam Spy. But, unlike Assassin's Creed: Syndicate, which greatly underperformed, Thief didn't have a big marketing campaign behind it. So, maybe in the eyes of publisher Square Enix, it all balances out?
A lot of people have been curious what the overall sales trends were for the title across all of the systems. Typically console games sell twice as much as PC ports, but Thief has always traditionally been a PC game with ports to consoles, so it's hard to get a gauge as to what the sales saturation was of Thief on the other systems. The game also didn't have the best of review scores due to a great many issues.
However, it appears as if Square Enix could be willing to pull the trigger on another outing, and if what the film's production crew states is true, then the new game will come out alongside the movie. Now, I know a lot of people are probably terribly worried that this might mean it's a movie tie-in game, which we're all probably hoping it's not. Then again, if Eidos had been working on this newest title since the release of Thief back in 2014, then they already have three years worth of work in, and maybe that could give this possible upcoming title a lot of hope for being decent... maybe?
For now we'll have to sit back and wait until Square Enix makes an official announcement about a new Thief game.
Staff Writer at CinemaBlend.
Your Daily Blend of Entertainment News
Thank you for signing up to CinemaBlend. You will receive a verification email shortly.
There was a problem. Please refresh the page and try again.