Thief Devs Chime In On Xbox One's Resolution Issues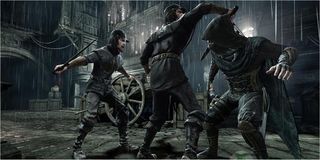 It's been confirmed. In case you didn't know, Thief on the Xbox One runs at a native resolution of 1600 × 900p. The PlayStation 4 runs the game at 1920 × 1080p. An increase of over 633,000 pixels in favor of the PlayStation 4.
Eurogamer confirmed the resolution with Eidos Montreal's lead game director, Nicolas Cantin, where he defended the difference between the game running at 900p on the Xbox One and 1080p on the PS4, saying...
Right, so with that bit of damage control out of the way following Jeremy Conrad's spilling of the beans after accessing an early review copy of the game, the developers further talked about how resolutions really aren't as important as the community is making it out to be.
Lead level designer for Thief, Daniel Windfield Schmidt, spoke with OXM at a recent press event, where he told them...
Nick Canton, also working as the game's art director, also chimed in to add his two-cents and a pint of ale to the conversation, noting...
But then the obvious question arose: why is the Xbox One sub-1080p? Why can't it do full HD resolutions? Why is it being left behind so early out of the gate? Why does it appear to be a fat, slow American system trailing behind a slim, healthy Japanese product? Check out Cantin's response...
I feel sorry for those poor engineers, probably tasked with spinning gold out of snail feces. Not an easy task at all.
But they aren't the only ones dealing with the resolution restrictions of the Xbox One. Rebellion Games claims that their woes are coming to an end thanks to the new SDKs Microsoft sent out, and apparently Ubisoft is feeling the heat with Watch Dogs, as the game will also be sub-1080p on the Xbox One, along with Metal Gear Solid V: Ground Zeroes.
I know some people don't feel resolution and graphics are important, but the upgrade from last-gen to next-gen is all about upgrading. Paying a premium price to experience something new should bring something new, not graphics, gameplay and resolutions that the previous generation console provided.
We all know why the Xbox One is suffering from the performance crisis in the game department, though. The only question now is if Microsoft will go over and beyond to rectify the problem in some way?
Your Daily Blend of Entertainment News
Staff Writer at CinemaBlend.