A Way Out Is A Game Built For Split-Screen Co-op And It Looks Amazing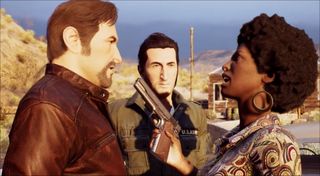 One of the surprise entries announced during this year's EA Play was Hazelight's A Way Out. It comes from Swedish film director turned video game maker Josef Fares. Coming off the success of Brothers: A Tale of Two Sons, the new title is about two prison inmates who make a daring escape.
The cinematic trailer sets up the game: two criminals have to break out of prison and attempt to get back to lives that were stricken from them for the crimes that they committed. The tale sees the two prisoners forming an unlikely relationship as they attempt to break out of prison using a variety of schemes and tactics to complete the task.
Consider this is an indie game this looks fantastic. This is the sort of mid-budget adventure I wish we saw more of from studios. Instead of always gunning for big AAA-style Hollywood blockbusters, sometimes it's the simple stuff that's most effective. In this case, A Way Out utilizes a lot of context-sensitive cooperative mechanics.
Now because of this, the game can only be played as a two-player title, whether that be split-screen in local co-op or via online play (which also uses split-screen). Hazelight and EA also released a gameplay trailer showcasing how the game is played and what gamers can expect from the upcoming title. You can check it out below.
Quite naturally a bunch of people have been commenting that the game is essentially Prison Break. It's hard not to argue with them because it does come across as the Prison Break game we always wanted. Yes, I know there was a Prison Break game for the Xbox 360 and PS3 from many years ago, but it was just kind of a ho-hum LP-based game. A Way Out looks like a really thrilling and thoroughly entertaining gameplay experience.
We see that not only will players have to work together to get out of tough situations within the prison, but they'll also have to partake in chase sequences, and thrilling platforming segments, and even engage in a few fisticuffs.
A part of the presentation reminds me of a far less jaded and less cynical version of Kane & Lynch. We haven't had a lot of two-player games quite like that since then.
During the 360 and PS3 era of seventh gen gaming there were quite a few cooperative games, such as Gears of War, Army of Two and Lost Planet 2 to name but a few. This gen we've been bereft of such pleasantries, usually with indie devs focusing more on story-oriented co-op experiences than the bigger studios.
Even now A Way Out is actually being helped along in development courtesy of EA's Originals program, so it's not necessarily the brainchild of something internal, but rather an indie game scooped up by the big AAA publisher.
Either way, the feedback on the game has been extremely and overwhelmingly positive so far, and I can't disagree with any of it. It looks like a thrilling, fun, entertaining gameplay experience and it's set to arrive on Origin for PC, PS4 and Xbox One in early 2018. You can sign-up for info and updates on the game by hitting up the EA web portal for A Way Out.
Staff Writer at CinemaBlend.
Your Daily Blend of Entertainment News
Thank you for signing up to CinemaBlend. You will receive a verification email shortly.
There was a problem. Please refresh the page and try again.