Metroid Prime 4 Is Happening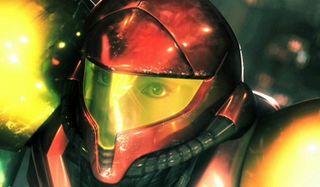 While Nintendo's E3 2017 showcase boasted a lot of gameplay for several upcoming titles, the trailer receiving some of the most hype around the internet featured little more than a game's name: Metroid Prime 4.
That's right, folks, Nintendo is working on a new entry in the Metroid Prime series, and it's coming to Nintendo Switch. As you can tell from the reveal trailer, we don't have much to chew on at this point. The video opens with a cloud of stars eventually taking the form of the popular Metroid lightning symbol, with a number 4 eventually shifting into the foreground. The "4" lights up in a pretty blue fire as the background fades to black and the words "Metroid Prime" appear alongside it.
The only other piece of info included in the trailer are the words "Now in development for Nintendo Switch."
And then the crowd goes wild!
Unfortunately, this is one of those situations where we're trying to keep our excitement reigned in. It's not that we aren't absolutely itching to return to the Metroid Prime universe, just that this trailer includes one more piece of less obvious information: We're probably going to be waiting a while to actually get our hands on it.
There wasn't a single screenshot, animation or moment of gameplay. Heck, they didn't even show a collection of concept art or anything like that. This leads us to believe that Nintendo only very recently greenlit the project, giving them just enough time to make it official here at E3. In short, there's probably a good chance we still won't be playing the new Prime game for a couple of years. But, hey, at least we know it's actually being developed!
According to Nintendo, they heard the cries of fans loud and clear when it came to continuing the Prime series and this game is a direct result of that demand. And really, the timing kind of makes sense. With the Wii U floundering from the start, it wouldn't make a heck of a lot of sense for Nintendo to move a new Metroid game into development on a system they were planning to can with a quickness. The Switch, on the other hand, is selling like mad. Nintendo probably feels confident in their new machine's future, so of course, they're going to want to get rolling on properties that don't have the word Mario or Zelda in the title.
We've got our fingers crossed that Nintendo has at least a little something to show for Metroid Prime 4 by the time Tokyo Game Show gets here but, otherwise, we imagine it'll be one of the most highly anticipated games of E3 2018.
So what do you think, readers? Ready to blast some alien scum on the Nintendo Switch?
Your Daily Blend of Entertainment News
Staff Writer for CinemaBlend.