Why Fans Are Angry About Nintendo Switch's Save Capabilities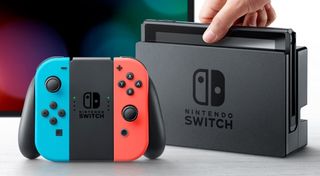 (Image credit: Nintendo)
Nintendo has been receiving a heck of a lot of praise from the gaming community and industry leaders for taking hold of the market by the horns and wrangling it into submission with the launch of the Nintendo Switch. However, fans are still quite critical of Nintendo when it comes to the Switch's save capabilities because it has no way to backup saved games.
According to Shack News, the Nintendo Switch has no backup save option or ability to transfer saves from the system to another device. The significance of this news is that there doesn't appear to be any means of rectifying this issue anytime soon from Nintendo's behalf.
Speaking with Kotaku, Nintendo of America president Reggie Fils-Aime confirmed to them that the Big 'N' has no plans on providing a solution for cloud saves or backup saves using external means anytime soon.
Given that E3 just took place last week, a lot of gamers figured it would be a great opportunity to ask Reggie about any possible plans from Nintendo's end to add backup save game options or the ability to transfer saves from the Switch to a new device, such as an SD card. But there was no such luck, as Reggie kept his message on point to the games and services that Nintendo was focused on showcasing at this year's event.
The backup saves or cloud saves is a topic of discussion that has been hovering around the Switch since its announcement. Many gamers presumed that maybe Nintendo would talk about the option a bit more with the upcoming release of the premium Nintendo Network on the horizon in 2018, but that wasn't happening.
Instead, Reggie has been evasive for anything not directly tied to Nintendo's immediate future. Back in January a lot of press and media asked about Nintendo's plans for third-party app services such as Netflix and Hulu, and once again there was a lot of evasive PR maneuvering from Reggie's end and Nintendo CEO Tatsumi Kimishima, as the duo focused more on the games and services that would be launching for the Switch in March and throughout the spring.
With the premium Nintendo Network launching next year in early 2018, most people assume that apps such as Netflix and Hulu will likely make the cut, along with other video services such as YouTube and DailyMotion.
At the moment, the Nintendo Switch is bereft of such services and third-party apps, and it was one of the major complaints from the media when the device launched this past spring.
On the upside, Reggie did confirm that cloud saves and external backups was a message that Nintendo had received loud and clear, so perhaps those are features currently in the pipeline as the company focuses on the release of the premium Nintendo Network next year.
In the meantime try not to break your Nintendo Switch, otherwise, you could lose all that precious Legend of Zelda: Breath of the Wild content. So far there haven't been any major reports about the Nintendo Switch breaking or cracking, so hopefully, the systems can stay safe long enough until Nintendo devices a solution in order to make backup saves.
Your Daily Blend of Entertainment News
Staff Writer at CinemaBlend.