Rust Has Refunded An Insane Amount Of Money On Steam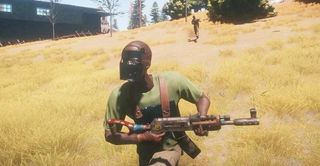 (Image credit: Facepunch Studios)
With Valve implementing the Steam refund option after being sued by the ACCC and forced to give gamers the ability to return a digital title, some games have been refunded a heck of a lot more than others. A perfect example is Facepunch Studios' Rust.
Garry Newman, the head honcho at Facepunch, posted a tweet on his official Twitter account informing gamers about how many refunds the studio has handed out for the game Rust. There have been more than 329,000 Steam refunds, totaling $4.3 million.
While that might seem like a lot -- especially since it's nearly one-third of a million people who requested a refund -- the reality is that 329,000 is a drop in the bucket for a game like Rust. According to Steam Spy Rust has sold more than 5.5 million copies since releasing back in December of 2013.
Unlike a lot of other Twitter threads out there, this particular thread was filled to the brim with tons of fascinating facts, numbers and information.
For instance, we learn that the only refunds that were actually issued were for gamers who were not banned or had been hacking Rust, since banned players are unable to request refunds (or as far as Newman knows that appears to be the case).
Newman also revealed that the top two reasons why people requested refunds for Rust within the first two hours of buying the game was because it was "not fun" and that the there was "bad performance" on their machine. According to the developer, he states that the reasons for the majority of the refunds are "pretty fair".
Famed developer Dean "Rocket" Hall also chimed in to share some minor stats about Rocketwerkz' Out of Ammo, and the refunds that have been issued for the game. He noted that there were definitely higher amounts of refund requests during the Steam Summer Sale, even when the game wasn't discounted. In fact, he says the studio saw an increase in refunds during the Summer Sale from 6% to 10%.
It's not surprising that "Rocket" would be keeping tabs on Newman's numbers given that Rust was one of the games that came out during the time when DayZ was peaking in popularity; that was back when Dean "Rocket" Hall was headlining development on the project. Since then, it spawned tons of clone survival games all attempting to jump in on the emergent gameplay that was introduced with DayZ.
Rust was one of the few clones that actually managed to stand the test of time and carve out its own niche in the market. It went from a weird caveman style survival game with zombies to something a bit more unique and all its own.
Even with hundreds of thousands of people requesting refunds, and facing stiff competition from other big name indie games like Playerunknown's Battlegrounds, Newman and the rest of Facepunch have still managed to keep a decent sales pace with Rust. The game is currently marked down by 50% off during the Steam Summer Sale, which will be in effect up until July 5th.
Your Daily Blend of Entertainment News
Staff Writer at CinemaBlend.