Five Nights At Freddy's Dev Reveals Sixth Game, Then Cancels It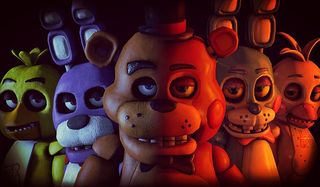 Five Nights at Freddy's fans have something to be excited about, as series creator Scott Cawthon has announced a sixth installment is in development. (Extra page handed to newscaster from off-screen.) It appears that the game's announcement was accompanied by its cancellation because that's just how the games industry works sometimes, folks.
In case that was a bit confusing, you need look no further than a recent update to the FNaF: Sister Location news feed, where Cawthon has decided to open up about what he's been doing in the games development world lately. Or, you could just keep reading, as we're going to break it down pretty succinctly here for you.
Over the past several months, Cawthon has been hinting at a project he's been working on, but he's never given said project a name. Folks assumed it was a sixth installment in the popular Five Nights at Freddy's series but, until recently, Cawthon was keeping his lip zipped.
In the post, Cawthon says that he was indeed working on a game and, yes, we might as well call it Five Nights at Freddy's 6. However, that statement was accompanied by an explanation that, as far as Cawthon is concerned at this moment, that game will never see the light of day.
His reasons are pretty common in this industry, especially when you're talking about a very small team working on a series of games that nobody expected to launch into the stratosphere. I mean, his simple horror title about a terrifying pizza joint has spawned multiple sequels in a short period of time and a ridiculous amount of merchandise so widely available you can buy it at Target.
According to Cawthon, though, both his own expectations and fan expectations for the next Freddy's game were reaching a point where he just wasn't enjoying his work anymore. He refers to it as "forcing" himself to work on the game, which is never a good sign.
Cawthon eventually clarifies that he has indeed canceled his project, but that doesn't mean the FNaF franchise is dead. He expects to return to it at some point, though he doesn't know if it will look anything like the game he was most recently working on. We imagine that was a hard call, scrapping all of that work; but it sounds like the right one. If a developer isn't enjoying the project they're working on, it shows in the final game. Better to take a break from the Five Nights series now, work on some stuff he's actually passionate about and maybe return when he's got the itch to terrify the shorts off of people again.
Thankfully, this year is looking pretty solid for horror fans even without a new Five Nights, what with games like Resident Evil VII already available and The Evil Within 2 coming this fall. We think it's a pretty brave move to not only realize a project you're working on is making your life miserable, but also be willing to do something about it and be open with your fans.
Staff Writer for CinemaBlend.
Your Daily Blend of Entertainment News
Thank you for signing up to CinemaBlend. You will receive a verification email shortly.
There was a problem. Please refresh the page and try again.