We Finally Have A Trailer For Five Nights At Freddy's Sequel, See It Here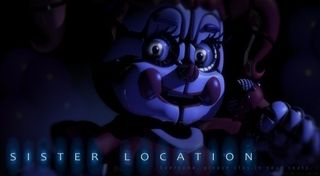 Scott Cawthon released the newest trailer for Five Nights At Freddy's: Sister Location, a new spin-off from the main Five Nights At Freddy's series. The trailer puts a strong focus on the new animatronics and their underground location.
Gamestop picked up the trailer that Cawthon recently put out for the public. The trailer clocks in at just a minute and a half and covers the game's mysterious story while giving gamers a look at the new animatronic villains in the game.
The tagline is that "There Was Never Just One". The trailer proceeds to explain that deep underground there are some secrets to be uncovered and that the "anger is restless".
Some speculate that players will be a security guard at an underground military facility where they'll need to protect themselves against a new set of deadly, possessed animatronic puppets.
We briefly get to see what looks like an elevator security station quickly descending. It appears to have a fan overhead and a security console at the front. The setup looks similar to other Five Nights At Freddy's titles, where players are in a single location and must micromanage their survival using a few tricks and hiding techniques.
One interesting element of this new Five Nights At Freddy's trailer is the shot showing the player character crawling through some air ducts. Combining that with the elevator scene, it might seem to allude to players being able to control the floor the elevator stops on and they might be able to crawl through the vents to either get away or perform some other task. In Five Nights At Freddy's 4 players scuttled around in a little boy's room, peeping out of doorways and checking the closet for the puppets. So Scott is no stranger to having players move around and finding ways to stay alive through each night. It wouldn't be surprising in Sister Location if he had it setup where players could move beyond the security station.
Some gamers are speculating that maybe it will be a game where players actually roam around in the environment instead of being stuck at specific scenes or only moving on rails to each scene. Of course, none of those details are revealed in the Sister Location trailer and none of those details are covered on the game's official website.
The only thing we do know is that this newest Five Nights At Freddy's entry is set for release this fall.
The last entry in the series was the spin-off game Five Nights At Freddy's World, a throwback RPG similar to classic turn-based games on the SNES. The game wasn't received very well due to some playability issues, but it was later fixed and re-released for free. We'll see if Scott Cawthon still has a blockbuster in him when Sister Location launches later this year during the fall.
Your Daily Blend of Entertainment News
Staff Writer at CinemaBlend.