More Crash Bandicoot Games Could Happen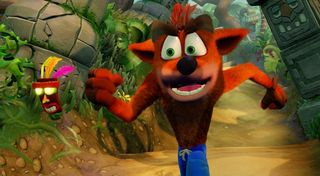 (Image credit: Activision)
Activision and Vicarious Vision's remake of the original Crash Bandicoot trilogy seems to have paid off with the release of Crash Bandicoot N. Sane Trilogy. The game has apparently been selling a lot better than Activision anticipated, and this means we could be seeing more of Crash in the future.
In an interview with GamesIndustry.biz, CEO Eric Hirshberg revealed to the outlet that Activision hasn't forgotten about the Crash Bandicoot series, and the company is trying some new things with the old IP...
Don't be surprised if Vicarious Visions (or some other developer) is held to Hirshberg's statements. According to Eurogamer, Crash Bandicoot N. Sane Trilogy is one of the U.K.'s best-selling games of 2017 to date, and it even managed to unseat Horizon: Zero Dawn and come close to matching the sales of Ubisoft's multiplatform release, Ghost Recon: Wildlands.
The first week of sales proves that despite being a 20-year-old franchise, Crash Bandicoot still has the chops to hang with the best of them.
Hirshberg is obviously paying attention to both the headlines and the sales charts as Crash rips and tears through the marketplace for the PlayStation 4. The game's hard-as-nails gameplay and unique take on the platforming genre have managed to capture the attention and wallets of gamers for today's generation who may have missed out on the furry marsupial when he was spinning his way to the top of the charts on the PSX back in the 1990s.
Of course, throughout the rest of the interview with GamesIndustry.biz, Hirshberg was focused mostly on Call of Duty. It was about juggling the creative juices for the annual juggernaut, which is where Activision has stationed most of their marbles. Back in 2011 and 2012, some investors were worried that Activision only had World of Warcraft and Call of Duty to fall back on as legitimate sources of income, but Activision-Blizzard whipped out Diablo III, and then later had a string of success with the toys-to-life genre in the form of the Skylanders games.
Eventually Skylanders' sales petered out due to oversaturation of the toys-to-life genre from competitors like Disney Infinity and Lego Dimensions, but it looks like Activision may have found a dark horse of financial perpetuity in Crash Bandicoot if they can roll out more games in the series that are as high-quality as Vicarious Visions' N. Sane Trilogy.
As mentioned in the interview, for now Activision is focused on Call of Duty: WW2, and the company has given Skylanders a rest this year. But given the success of Crash Bandicoot N. Sane Trilogy, don't be shocked if the former Sony mascot ends up getting cycled into Activision's annual (or bi-annual) outings to capitalize on the resurgence of Crash's popularity.
Your Daily Blend of Entertainment News
Staff Writer at CinemaBlend.