Here's How Successful Horizon Zero Dawn Could Actually Be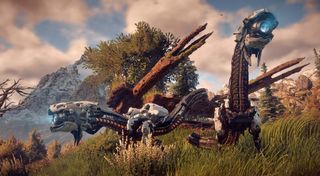 (Image credit: Guerrilla Games)
Sony's latest first-party exclusive, Horizon: Zero Dawn, is being pegged to be the next Uncharted. No, really. There are already estimates stating that by the end of the year the game could reach or surpass what Uncharted 4 did in terms of sales on the PS4.
Gamespot is reporting that as a new IP, Horizon: Zero Dawn will break through all the barriers and possibly move up to 8 million units by the end of 2017. This estimate comes from a Superdata report, where they say that even if it doesn't top out at 8 million units sold, they're expecting it to move, on average, 6 million units.
The report also indicated that sales would be strong thanks to an aggressive marketing campaign from Guerrilla Games and the main character Aloy, who they peg as being a new mascot for the PlayStation brand. They also estimated that the sales being so strong would allow Horizon to become a new franchise.
It all seems like it's a little early to be making such bold claims. Horizon: Zero Dawn is probably going to be the best first-party exclusive for the PS4, however it does not have the clout or brand recognition as Uncharted to move units on name the integrity of its name alone. No matter how Uncharted 4 turned out it was always going to sell well. Horizon, for some gamers, is still seen as a potential risk since it's an unproven new IP, despite coming from an established development studio like Guerrilla Games, who are famous for the Killzone series.
Superdata putting Horizon up at the 6 million mark for its annual sales margin is a bold move, and claiming that it could hit 8 million at its peak is even bolder. That would mean that Horizon: Zero Dawn would move just as many units as the original Watch Dogs did within the same time frame, which shipped (not sold) 9 million SKUs by the end of the year, as reported by Gamespot. Keep in mind that Watch Dogs was available on the PS3, PS4, Xbox One, Xbox 360, PC and the Wii U in order to achieve those figures. Horizon is only launching on the PS4.
Sometimes over-estimating can be more harmful to a brand than helpful. A game like Horizon selling will boil down to the gameplay and not just marketing. The game needs to be able to hook players. As we saw with other first-party exclusives like The Order 1886, just having fancy graphics, a cool theme, and a strong marketing push will not guarantee that the game will sell by the truckload.
Additionally, a character becoming a mascot is usually up to the audience. Crash Bandicoot wasn't made to be the mascot of the PlayStation brand, but he resonated strongly with the market at the time and he just ended up becoming the unofficial mascot during the PSX era, mostly due to his "edgy" style and contrasting marketing to Nintendo's Super Mario games. The same thing happened with Master Chief and the Xbox brand. The Halo games sold like crazy and Master Chief very strongly resonated with audiences, making him an easy pick to lead the charge amongst a gallery of less than influential characters (including the Mechwarrior, Voodoo Vince and Blinx).
So far, reviewers are loving Horizon: Zero Dawn, so that major hurdle has already been overcome by Guerrilla. Now they just need to ensure that gamers will take to the open-world gameplay of Horizon and hope that there's enough depth to garner strong word of mouth, and, from there, they should see some solid sales for the game.
You can look for Horizon: Zero Dawn to launch on February 28th.
Staff Writer at CinemaBlend.
Your Daily Blend of Entertainment News
Thank you for signing up to CinemaBlend. You will receive a verification email shortly.
There was a problem. Please refresh the page and try again.