See Starfire's Gameplay In New Injustice 2 Video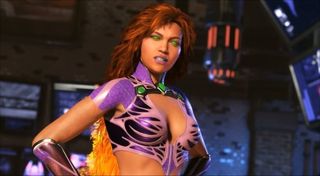 One of the new DLC characters for NetherRealm Studios' Injustice 2 is the Teen Titan, Starfire. She's not much of a teen in Injustice 2, but she's most certainly a titan when it comes to unleashing a ferocity of devastating attacks and projectile powers against her opponents in the DC Universe fighting game.
The trailer went live over on the official Injustice YouTube channel. The synopsis explains that Starfire joins in on the fray after she was motivated to fight following the death of Dick Grayson, also known as Nightwing.
Dick Grayson died off-screen in the original Injustice: Gods Among Us, and was only referenced in the games thereafter. The comic books detailed how Grayson met an unfortunate end by getting hit in the back of the head with a metal rod by an ill-tempered and enraged Damien Wayne. Dick fell unconscious but died when his neck landed on the back of jagged rock.
It would have been a great story arc to include Starfire in the Injustice 2 main story, but I suppose it's better she arrive late than not at all.
The minute and a half long trailer starts off by addressing the very elephant in the room that everyone is likely thinking about: what would happen if Starfire met the kid who killed her lover? Well, we see Starfire fly into the screen and interact with Damien Wayne before beating the crap out of him.
First of all, Starfire has an interesting design. The back of her hair is literally on fire, creating a really stand-out visual effect.
Her moves are very airy and almost water-like, as she has a combo set centered around spin moves and twirls, almost like that of a ballerina.
She combines these combos with her long-range zoning attacks where she can fire off projectile streams at her opponents. What's more is that she can also create zoning spaces by starting with a combo and then using her cosmic blasts to knock opponents both in the air and toward the edge of the screen.
This makes Starfire a very unique pugilist on the Injustice 2 roster because the other cast of characters can't really create that kind of separation and then maintain it the way Starfire can, except for maybe Superman and Supergirl.
We also see that Starfire can zone from multiple positions, including bringing in opponents close to her and then creating air-juggle opportunities, or flying overhead and firing down on her opponents from above, or simply shooting out fireballs from the edge of the screen. In the right hands she could probably be the most annoying and challenging character to fight on the entire roster.
I can't think of another character who has the abilities that she does to control multiple zoning opportunities like that other than maybe Erron Black from Mortal Kombat X before he got nerfed. Anyway, you can look for Starfire to join Red Hood and Sub-Zero as a DLC character in Injustice 2 starting this August.
Staff Writer at CinemaBlend.
Your Daily Blend of Entertainment News
Thank you for signing up to CinemaBlend. You will receive a verification email shortly.
There was a problem. Please refresh the page and try again.