Mortal Kombat X Story Trailer Confirms Three More Characters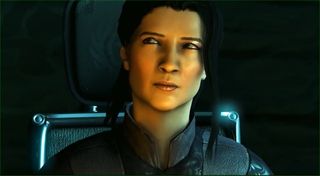 A new trailer has emerged for Mortal Kombat X, covering the game's storyline and revealing three new characters that are joining in on the fray. The new trailer is just over two minutes of brutal fighting, appendage-ripping and plenty of fatalities. Check it out below.
The trailer introduces a couple of new faces to the fold, three of whom are descendants of some popular Mortal Kombat characters, including Jacqueline Briggs, the daughter of Jackson Briggs, better known to most as Jax. There's also Takashi Takeda, the son of Kenshi (though a lot of people are still hoping that Kenshi makes an appearance in the game at some point). And finally there's Kung Jin, the descendent of Kung Lao. That should be interesting given that Kung Lao is still in the game.
The story trailer focuses on a group of Earth-realm fighters attempting to thwart Mileena and her Outworld mercenaries from taking over. The story has some interesting elements because we see Kotal Kahn attempting to regain control of Outworld by taking on Mileena. However, an ancient artifact helps give her a powerful edge.
The three new faces join the rag-tag squad put together by Cassie Cage, the daughter of Johnny Cage and Sonya Blade. She has a mix of both her parents' moves along with her own bit of style.
Many of the gamers who watched the trailer were fairly excited for Mortal Kombat X and the story. NetherRealm Studios has really been picking it up on the writing and story development aspect ever since the reboot of Mortal Kombat came out for the home consoles and PC back in 2009. The reboot focused on the first three Mortal Kombat games from back in the 1990s, giving players a sort of recap of all the events leading up to the brand new Mortal Kombat X.
The roster for the new game is slowly filling out, focusing on a ton of brand new characters while also keeping some of the fan-favorites from the original.
We already know that classic characters like Raiden, Quan Chi and Goro are already back, along with Kitana, Reptile, Kung Lao and Kano. Series regulars like Sub-Zero and Scorpion are also a given.
It's definitely nice to see how much time and effort NetherRealm Studios put into upcoming game. From the story to the character designs to the actual fighting – everything about Mortal Kombat X has been upgraded, evolved and advanced. Also with NetherRealm focusing on the Xbox One, PS4 and PC versions of the game it doesn't restrict them quite as much, so they don't have to force-down the game to the Xbox 360 and PS3 (even though those two consoles will still play a role in how far NetherRealm can go with the content given that it still has to be ported to the seventh-gen consoles by High Voltage).
Capcom definitely has a lot on their plate when it comes to getting people amped up and hyped for Street Fighter V on PS4 and PC. NetherRealm has brought their A-game to the table so Capcom will have to bring their S-game if they want to stay competitive.
Mortal Kombat X is due for release on seventh-gen and eighth-gen consoles, along with PC, starting April 14th. Need more info? Feel free to visit the official website.
Staff Writer at CinemaBlend.
Your Daily Blend of Entertainment News
Thank you for signing up to CinemaBlend. You will receive a verification email shortly.
There was a problem. Please refresh the page and try again.