NBA 2K18 Could Have A Very Unusual Problem by The Time It Comes Out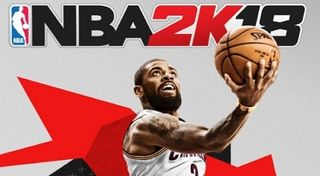 (Image credit: 2K Games)
Some controversy is starting to brew over the upcoming NBA 2K18, even though the game isn't even out yet. The issue spawns from some ongoing tumult involving one of the top stars in the NBA and his position within a certain top tier team.
Gamespot is reporting that 2K Sports could be put into a pickle over Kyrie Irving wanting to leave the Cleveland Cavaliers. He's asked for his trade recently, some citing issues with LeBron James, others saying it's to do with management.
So what does this have to do with NBA 2K18? Well, as Gamespot points out... back in June 2K Sports unveiled the official cover art for NBA 2K18, which features none other than Kyrie Irving.
Now typically this wouldn't be an issue but the major problem is that Irving is clearly in his number two Cavaliers jersey and it makes it kind of difficult to overlook that if Irving's request for trade goes through.
Of course, the next big question becomes: What happens if Irving is traded before NBA 2K18 is released?
It's a good question because having your cover athlete representing a team from earlier in the season while being on a completely different team for the 2018 season would make for pretty embarrassing marketing material for both the game and the brand in general. That's not to mention that Cavaliers fans would likely always see the cover art in nothing but disgust.
So how does 2K get around this issue? Well, it's possible that they could go for a more generic bit of cover art featuring Irving, or replace Irving altogether.
Gamespot notes that it's not all bad news, though. In Canada, the game cover for NBA 2K18 will be different, as it will feature DeMar ReRozan from the Toronto Raptors. The special deluxe edition will also sport a slightly different cover variant in the form of Shaquille O'Neal. So if Irving does decide to leave the Cavaliers at least there are options.
For those interested, the special edition of the game comes in two different forms, the Legend Edition and Legend Edition Gold. The standard Legend Edition features a poster of Shaq, five trading cards, and exclusive stickers along with special digital content in the form of 100,000 virtual currency, 20 weekly MyTeam packs, and some special in-game Shaq items. The Gold Edition is practically the same with the exception of 250,000 virtual currency and 40 weekly MyTeam packs.
It seems like it would be a bit of overkill to have to buy the special editions of the game just to avoid a bit of a cover snafu, but until Irving makes his decision (or the teams he's eyeing makes a decision) it looks like 2K Games will be safe for now having him as their cover athlete for this year.
NBA 2K18 will be available on the PS4, Xbox One, PC and Nintendo Switch starting September 15th.
Your Daily Blend of Entertainment News
Staff Writer at CinemaBlend.
Your Daily Blend of Entertainment News
Thank you for signing up to CinemaBlend. You will receive a verification email shortly.
There was a problem. Please refresh the page and try again.