Overcooked Is Coming To The Nintendo Switch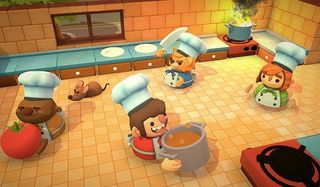 The folks over at Team17 have announced their popular cooperative chef-a-thon, Overcooked, is coming to the Nintendo Switch. Even better, you won't have to wait very long at all for this order to be up. It arrives this Thursday, July 27.
Over on Eurogamer, they got word from the developers at Team17 that Overcooked is heading to the Switch this week. That's basically perfect, as the switch was designed with local multiplayer in mind and Overcooked happens to be one of the best games in that particular genre to release in many years. Sure, you can play it solo, but the game shines its brightest when you add another cook or three to the kitchen.
Overcooked launched for the PlayStation 4, Xbox One and PC about a year ago and went on to receive rave reviews. The Switch version of the game will boast everything present on those other platforms, including the original 44-stage main campaign. Also available in this special edition will be nine competitive levels for players to cook through, as well as the two DLC packs, The Lost Morsel and Festive Seasoning.
Overcooked is one of those games that seems so obvious, it's baffling nobody tried to pull it off until now. Cooking simulators have been big since Ore no Ryouri launched on the original PlayStation, paving the way for games like Cooking Mama, Diner Dash and their thousands of sequels and clones. Overcooked takes the idea of running around a kitchen and trying to prepare meals for a bunch of customers, but adds in the extra hook of allowing multiple people to pitch in.
In the game, players need to manage cooking, preparing, cleaning and the like across a busy kitchen. The kitchen layouts change by level, which adds a whole new wrinkle of management and difficulty. Other obstacles will be thrown in your way, too, like a kitchen divided by a line of customers who keep getting in the way. The object of the game is to organize who is going to do what in order to prepare meals properly and quickly to keep those customers happy. You do all of that within a set time limit and try to earn as many coins/stars as possible.
Obviously, playing cooperatively makes your living room sound like an actual kitchen, with players shouting out orders, announcing what's needed and letting everyone know what they're going to prepare next. It's fast, hectic and, most importantly, a lot of fun.
The great thing about Overcooked on the Switch is that it will be yet another game perfectly suited to sliding off the Joy-Con controllers and playing with a pal while you're on the go. Look for it this week on the eShop, going for $19.99.
Staff Writer for CinemaBlend.
Your Daily Blend of Entertainment News
Thank you for signing up to CinemaBlend. You will receive a verification email shortly.
There was a problem. Please refresh the page and try again.