Worms Battlegrounds On Xbox One, Squirms To PS4 Next Week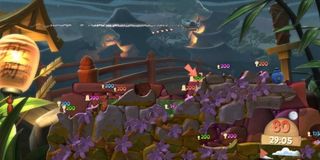 War is an ugly business, full of mayhem, lost lives, exploding sheep, funny accents and lots and lots of worms. Now the fight is set to continue on a whole new generation of consoles as developer and publisher Team17 announces the impending launch of Worms Battlegrounds, making a beeline (or squiggly wormline, I suppose) to the PlayStation 4 and Xbox One.
The Worms franchise has been around for a couple of decades now, popping up in one iteration or another on more than 25 platforms since the series was first introduced back in 1995. My personal favorite has always been Worms: Armageddon for the original PlayStation. My friends and I played that game for hours on end back in the day, carefully chucking holy hand grenades at our enemies, calling in a napalm strike or swinging in with a ninja rope in order to drop a landmine directly on a "friends" head. That was, of course, only when we weren't accidentally killing our own wormy soldiers due to poor aim or a lack of understanding for the basic rules of physics.
In the Worms games, teams of players are randomly dropped into destructible, and also randomly generated, levels in order to battle for supremacy. You don't really get much of a say on what the level looks like or where your troops are placed in the standard game mode, making adaptability a key to success. Once the game gets rolling, players get to move, one at a time, through their army of miniscule warriors, utilizing various weapons and abilities in order to protect their own critters or lay waste to the opposition.
It's a simple formula, but a successful one, and it looks like it will be continuing for a whole new generation of gamers as Worms Battlegrounds preps for deployment on the PS4 for $24.99 come June 3. Word on the street is that it is now available for the Xbox One at the same price.
So what, exactly, will that 25 bucks net you? Well, let's run down the list, courtesy of Team17:
-25 single player story missions
-10 'Worm-Ops' time attack missions
-5 environments, including Inca, Viking, Feudal Japan, Industrial Revolution and Prehistoric
-Night/day lighting transitions
-Multiplayer deathmatch and Fort modes for four-player online and local play
-1080p graphics running at 60 frames per second
-A landscape editor
-Clan support
-Physics-based contraptions
-More than 200 items for customizing your worms
-65 weapons, including new items like the Mega Mortar, Gravedigger, Winged Monkey, Bovine Blitz, Teleport Gun and The Equalizer
There will also be a bit of extra content/options depending on which console you're playing the game on. The Xbox One version, for instance, has a SmartGlass companion app to help players keep track of their stats on the go.
The PS4 version will have a companion website for a similar purpose, as well as the ability to assign up to four weapons to touchpad gestures for faster use. The Dualshock 4 will also feature a constantly changing light bar, depending on what's happening to your worms.
Your Daily Blend of Entertainment News
Staff Writer for CinemaBlend.