Cooking Mama Combo Packs Now Available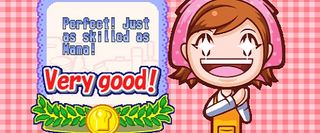 Sometimes it's hard to find time to spend with the family. But don't worry, Mama understands. She's collected all of her lessons and wisdom into a trilogy of gaming bundles and, starting now, you can finally dive into Mama's well of knowledge at a bargain price.
Whether you're playing on the DS, Wii, or both, Mama is ready to help turn you into a cooking, camping, crafting machine of awesomeness. Right now, you are broken. But don't worry, Mama fix.
First up is the Mama's Combo Pack Volume 1 for the Nintendo DS. This bundle offers the original Cooking Mama bundled with Camping Mama: Outdoor Adventures. Mama has a lot of information to share with you as Cooking Mama offers 75 real dishes to master. While you'll be using the touchscreen to complete minigames in the cooking process, the steps taken are those you would actually take were you cooking these various meals. In Camping Mama, you'll get to explore 38 woodsy levels offering another 100 games' worth of outdoor know-how.
The second bundle, Mama's Combo Pack Volume 2 is also for the DS and kicks off with Cooking Mama 2: Dinner with Friends, which offers another 80 recipes to wrap your brain around. That'll come packaged with Crafting Mama, which will have you playing even more minigames to learn how to sew, mold, paint and make things like jewelry, quilts and candles.
Bringing the lessons to the big screen, Mama's 2-Pack for the Nintendo Wii comes with its own duo of Mama-infused gaming with Cooking Mama Cook Off and Cooking Mama World Kitchen. Both games give Mama a 3D makeover, make full use of the Wii motion controller and, along with the standard set of recipes to learn, give you the chance to take part in 2-player competitions.
Each Cooking Mama bundle is available now for $29.99. For more info on all things Mama, visit her page on the Majesco website.
Your Daily Blend of Entertainment News
Staff Writer for CinemaBlend.