Call Of Duty: WW2 Beta Players Will Earn Some Cool Rewards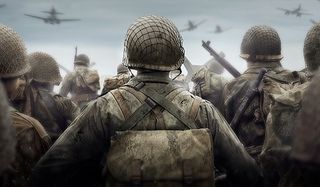 The Call of Duty World War II beta is still a ways off, but Activision is hoping to entice players to enlist nice and early in order to help test the servers and make sure things are stable once launch day rolls around. For your service, you'll get a handful of goodies that transfer into the full game including a collection of cosmetic items.
Over on the CoDWWII twitter page, they've posted a picture of the rewards players will receive for taking part in the private beta, including an exclusive helmet, calling card and emblem.
Dubbed the "Private Beta Combat Pack," this collection of items includes a pretty snazzy white helmet, as well as a calling card and emblem with matching designs. The helmet is one of the cosmetic items you'll be able to equip to your soldier in online battles, while the calling card and emblem are displayed when folks check out your profile or are 86ed by you in online matches.
Honestly, that's nice and all, but I'm not so sure I'd want to equip that helmet. Playing the latest Call of Duty during E3 this year, I saw first-hand that the color scheme is exactly what you would expect for the era and the locales. There's some greenery courtesy of trees and various military emplacements like tents, mounted guns and tanks, but there was also a lot of brown. It isn't the smeared "dark and drab" motif games suffered from several years back, but I imagine a white helmet would stick out like a sore thumb when everybody else is wearing more standard military colors. Personally, I don't want to call attention to my dome in an online shooter.
Tactical disadvantage or not, we can't really argue with the developers passing out some free goodies for folks who jump in and help them test out the game. The rewards will be available when CoDWWII launches on Nov. 3. To get access to the private beta, you'll of course need to pre-order the game. So, we suppose you could just consider this a pre-order bonus, too.
The private beta goes live on the PlayStation 4 on Aug. 25, so you'll want to make a purchase decision soon if you're wanting to join the private beta and, thus, earn these rewards.
When the full game arrives, it'll hit the PS4, Xbox One and PC. You can also snag a Digital Deluxe Edition, which includes the game, a season pass of DLC, as well as some unspecified "additional bonus content" and 500 CP that can be spent in Infinite Warfare or Black Ops 3. We assume that means virtual currency won't be used in World War II, and we take that as fantastic news if it turns out to be true.
And, don't forget, on top of the single player campaign and the online modes, the latest Call of Duty will, of course, have a new zombies mode, this time giving you the chance to shoot some undead Nazis.
Your Daily Blend of Entertainment News
Staff Writer for CinemaBlend.