Amazon Prime Members Can Now Get Free Overwatch Loot Boxes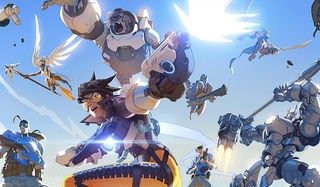 If you just so happen to be an Overewatch fan and an Amazon Prime subscriber, you can now claim some in-game goodies simply by linking your accounts. While more digital swag will be rolled out in due time, you can currently get your hands on some gratis Loot Boxes.
We announced earlier this summer that Overwatch and Twitch Prime were launching a promotion that would result in free in-game items for folks who linked their accounts. In case you're confused why I started off talking about Amazon Prime and am now talking about Twitch Prime, it's because having the former automatically grants you access to the latter. It's just another one of those perks many Amazon Prime members don't even realize they have.
If you link you Amazon and Twitch account, then link the Blizzard account you've been using while playing Overwatch, you can now claim your first batch of free items.
This first month of Overwatch goodies is pretty straightforward. Between now and Sept. 10, you can simply log into the game and claim yourself five standard Loot Boxes. You usually have to earn these by playing the game or by purchasing them for real-world cash, so it's certainly a nice little perk. Loot Boxes contain things like shaders and skins; pretty much all of the stuff you need to make your Overwatch roster look fun and unique.
The prizes don't end there, though. Once this current window closes, a new one will open in October. During that time, you'll be able to grab another five standard Loot Boxes and one Gold Loot Box, which boasts even better goodies for you to use to customize your game.
But as we reported earlier, this partnership between Amazon, Twitch and Blizzard doesn't stop at Overwatch. They've got additional promotional giveaways planned for games like Hearthstone and Heroes of the Storm. Those games use a similar loot system, so expect the in-game goodies to include packs of cards in the former and loot boxes with cosmetic items and the like in the latter.
If you're curious about the benefits of Twitch Prime outside of monthly in-game loot drops, you also get ad-free viewing and a free premium channel subscription every month, discounts on certain games through Amazon, and more. As is usually the case with these types of services, you can give the whole thing a 30-day trial by visiting the official website.
We'd be interested in knowing if any of our readers have taken advantage of this promotion yet. Was getting your free Loot Boxes in Overwatch as easy as it sounds? Let us know in the comments below.
Your Daily Blend of Entertainment News
Staff Writer for CinemaBlend.