Pokken Tournament DX Shows Off The New Features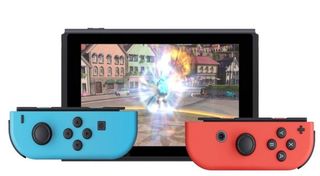 Pokken Tournament came out in 2015 for the Wii U, but we all know the Wii U was in the death throes by the time the game came out. Well, Bandai Namco decided to give the game Pokken Tournament another go on the Nintendo Switch, and a video trailer details what's new in the re-release of the fighting game.
The video was posted up over on the official Nintendo YouTube channel, sporting two and a half minutes worth of gameplay.
The promo trailer isn't just about convincing gamers that they should pick up Pokken Tournament DX, it also covers some of the new Pokemon that have been added to the game, including Decidueye, an air-type with both projectile attacks and aerial crowd-control maneuvers.
The video also reveals that four of the characters that appeared in Namco's original arcade release but didn't make the Wii U cut are also set to appear on the Switch version as battle Pokemon. These Pokemon include Darkrai, Empoleon, Croagunk, and Scizor.
There were some complaints before that the Wii U version of Pokken Tournament didn't feature enough fighter types from the other portable versions of the Pokemon games on the DS and 3DS, so it looks like Namco is attempting to rectify that by adding in a few more aggressive-type Pokemon who would make for good pugilists in the arena fighting game.
Additionally, two of the new Pokemon from Pokemon Sun and Pokemon Moon are also going to appear in the Switch version, including Litten and Popplio, who will be usable as support Pokemon.
The Switch version won't just have new Pokemon to play as, Namco also implemented an all new Team Battle mode, which takes some cues from SNK's King of Fighters series, enabling players to do 3-on-3 team battles.
A new Group Match mode has also been implemented, which works very similar to a matchmaking feature. However, you can create groups and then battle against other players only within those groups, so it's a lot more refined than a typical global matchmaking
A new Daily Challenge feature is also present, which allows players to take on daily challenges, such as defeating a certain number of opponents within a certain time frame, or doing a set number of matches within a specific mode. You can use the rewards from the daily challenges to earn points and use those to upgrade your Pokemon skills. The challenges will switch up each day, so you'll always have something new to accomplish when you play the game.
All of these features will be available, in addition to the portable modes present for those who want to game on the go. You can look for Pokken Tournament DX for the Nintendo Switch to release both digitally and at local retailers starting September 22nd.
Staff Writer at CinemaBlend.
Your Daily Blend of Entertainment News
Thank you for signing up to CinemaBlend. You will receive a verification email shortly.
There was a problem. Please refresh the page and try again.