King Of Fighters 14 Announced For PS4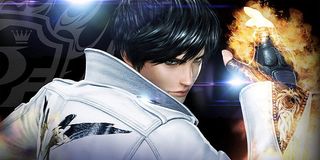 Fans of fisticuffs have something to look forward to in 2016 as SNK Playmore announces the arrival of King of Fighters XIV, exclusively on the PlayStation 4.
Announced during Sony's pre-Tokyo Game Show conference yesterday morning, it looks like King of Fighters XIV is set to deliver a beating on the PS4 in 2016 and, while we don't know much about the new entry just yet, they at least showed off the first in a planned trilogy of announcement trailers.
The above trailer went live on the KoF XIV official website yesterday afternoon, accompanied by no further details other than a nebulous "2016" launch window. As the trailer points out, this will be the 14th numbered title in the King of Fighters series since its debut more than 20 years ago back in 1994. Seeing as how I can clearly recall playing and loving the original game, I suddenly feel a lot older than I did just a couple of minutes ago.
As for what we can glean from the brief footage that's been put on display, it looks like the series is finally moving away from animated sprites and shifting instead into full 3D models. That's likely to divide fans, as some folks want their long-running fighting games to look and feel practically identical between iterations.
Only two characters were on display in the trailer, including modern staples Kyo Kusanagi and Iori Yagami. If this plays out like every other lead-in to the launch of a fighting game, we can expect additional cast members to be revealed in the coming months. As for the teaser site, spots for "Trailer 2" and "Trailer 3" both promise to be "coming soon," so we probably won't have to wait long for additional details.
It's nice to see King of Fighters jumping on the current gen bandwagon, joining the likes of Injustice, Mortal Kombat X, Dead or Alive and even indie darling Skullgirls, as well as upcoming Street Fighter V. The fighting genre has seen a huge resurgence in the past several years, so it looks like that will be continuing into this current generation of gaming.
Speaking of fighting fans, that's exactly who we want to hear from. There wasn't much to see, but what was your takeaway from the KoF XIV trailer? Thoughts on those 3D models? Which characters are you most hoping to see added to the roster next? Or, if the current crop of offerings isn't quite doing it for you, which old school fighting series would you like to see return in a big way? If your answer was Rival Schools or Bloody Roar, you get a gold star.
Staff Writer for CinemaBlend.
Your Daily Blend of Entertainment News
Thank you for signing up to CinemaBlend. You will receive a verification email shortly.
There was a problem. Please refresh the page and try again.