Star Wars Has Turned Global Landmarks Into Augmented Reality Locations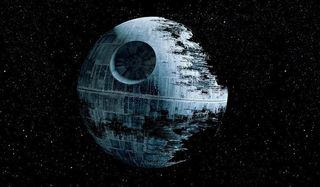 If you've wondered what it would be like to see a Star Destroyer cruise through the real world, then you'll want to grab your phone and head to one of 20 key locations around the globe within the next few days. Disney and Lucasfilm have announced an augmented reality surprise in honor of Force Friday II.
In case you're not sure what Force Friday II is, that's the day Disney and Lucasfilm will unleash an army of merchandise around the globe in support of the upcoming film, Star Wars: The Last Jedi. As part of that celebration, an AR treasure hunt is also taking place.
To enjoy the AR scene, all you have to do is plant yourself within a mile of any one of 20 global landmarks, boot up the Star Wars app and point your phone to the sky.
If you do that, you'll get to watch a short scene unfold above that real world location. You'll also be able to take photos of your encounter. According to the announcement, the scene is a 10-second clip that shows a Star Destroyer and a pair of TIE Fighters flying over whatever landmark you've chosen to visit. You'll be able to enjoy this AR experience through Sept. 3 at any of the following locations:
Central Park, USA
CN Tower, Canada
Coca-Cola London Eye, UK
Copacabana Beach, Brazil
Eiffel Tower, France
Gam Ia Stan, Sweden
Golden Gate Bridge, USA
Gran Via, Spain
Grand Canyon, USA
Ha'Penney Bridge, Ireland
Hollywood Sign, USA
Lumpini Park, Thailand
Memorial de America Latina, Brazil
Merlion Park, Singapore
Niagra Falls, Canada
Piazza del Duomo, Italy
Schloss Charlottenburg, Germany
Sydney Harbour Bridge, Australia
Victoria Harbour, Hong Kong
Yoyogi Park, Japan
Again, this is basically a celebration of consumerism, centered around the launch of T-shirts, action figures and the like based on the new Star Wars film launching this winter. As such, the event will be heralded at 20,000 retail locations around the world, where you'll also be able to take place in an AR treasure hunt from Sept. 1-3. You'll want to visit the official Star Wars website to find the closest participating retailer. We're not exactly sure what this treasure hunt will entail, but we assume it'll have you running all over the local Walmart looking for objects you can only view with your phone.
Since this is a post-Pokemon Go world, we feel it's important to remind folks to use caution while messing around with AR experiences out in the real world. Try not to wrap your car around a tree or step into traffic all because you wanted a better look at that Star Destroyer hovering over Central Park. And don't forget, Star Wars Battlefront II is on the horizon, so hopefully, you'll have a chance to zip around one of those bad boys in the virtual world once the game launches on Nov. 14.
Staff Writer for CinemaBlend.
Your Daily Blend of Entertainment News
Thank you for signing up to CinemaBlend. You will receive a verification email shortly.
There was a problem. Please refresh the page and try again.