How Fast Super Famicom Classic Sold In Japan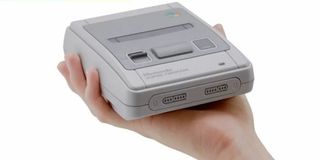 (Image credit: Nintendo)
The SNES Classic Edition has been made available for pre-order from participating online e-tailers and brick and mortar retailers. The system has been selling like crazy and Nintendo's revival console has already managed to sell out in near record time in Japan after pre-orders opened up over in the land of the rising sun.
NintendoSoup is reporting that the Super Famicom Classic Edition in Japan managed to sell out within a matter of minutes when pre-orders became available.
According to the report, outlets Yodobashi and Nojima opened up pre-orders for the system at 9am in Japan's time and within the span of just 10 minutes, the micro-console was sold out.
The article goes through a number of other outlets who also sold out in record time, with Rakuten Books and Yamada Henki both selling out of the Super Famicom Classic Edition within minutes after opening pre-orders in the late morning just before the afternoon hit.
This isn't some kind of phenomenon, though. In North America when Walmart preemptively opened up pre-orders in July ahead of the official release of the SNES Classic Edition, the website was swamped and flooded with both people and bots who were all attempting to get their hands on a SNES Classic Edition, and it ended up selling out within minutes, just like in Japan.
Walmart later had to cancel all the pre-orders after Nintendo announced that pre-orders weren't supposed to be opened at that time. Eventually, pre-orders opened up again and gamers were able to pre-order the SNES Classic Edition ahead of its eventual release, except this time around Nintendo of America president Reggie Fils-Aime let gamers and potential consumers know that there would be plenty of stock made available because Nintendo would be pumping out plenty of units due to increased manufacturing. He also told everyone not to fall for the price-gouging traps by the scalpers on auction sites because supply would be made plentiful this time around unlike with the NES Classic Edition.
The thing is, even with ramped up production, it doesn't sound like everyone will still be able to get their hands on a SNES Classic Edition or Super Famicom Classic Edition when they finally launch, especially if current pre-order trends are anything to go by.
One of the big selling points and the reason for the massive consumer interest is because for the first time ever, Nintendo will be releasing the official StarFox 2 game for the SNES, which was never officially released to the public. StarFox 2 will be joining nearly two dozen other classic games from the 16-bit era all for just $80.
While it features slightly fewer games than the NES Classic Edition, which came with 30 games for $60, there's a lot of nostalgia from the 16-bit era where gamers were thoroughly entertained by the SNES and Sega Genesis era of games. That period was oftentimes considered the "golden age" of gaming. So expect the Super Famicom and SNES Classic Edition to continue to sell out around the world as pre-orders continue to open up and get fulfilled within a matter of minutes.
Your Daily Blend of Entertainment News
Staff Writer at CinemaBlend.