Splatoon 2 Announces Halloween Themed Splatfest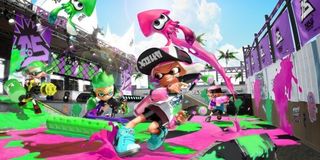 Nintendo is keeping the festivities going for Splatoon 2 with a new Halloween-themed Splatfest set to take place in the middle of October just ahead of Halloween. Before the event gets underway, Nintendo keyed gamers into what the two opposing sides would be in the upcoming Splatfest, pitting two classic horror icons against one another, vampires and werewolves.
The news was made available on a new Twitter account that's a spinoff from the Nintendo of America Twitter feed. Instead of posting all things Nintendo, the Nintendo Versus account focuses on multiplayer events, like the ones for Splatoon 2.
This latest Splatfest in North America, however, will focus on an age-old rivalry between two mythical horrors of the night that usually creep up into pop-culture during Halloween: Werewolves versus Vampires.
The versus image is done in the typical child-like doodling that have been a hallmark of the Splatoon 2 Splatfest promotional art since Nintendo started rolling them out this past summer.
The event is set to get underway next Friday starting on October 14th at 9:00pm Pacific Standard Time. It's interesting that it's happening that late, especially since it will be be 12:00am Eastern Standard Time when the event finally gets underway. A lot of kids will likely be asleep by that point, missing out on the fun. However, if it runs through the weekend then there's still plenty of time to get in some paint-splashing action before we get a conclusive answer as to who is better between vampires and werewolves.
There's a hilarious set of responses in the Twitter thread about the news that eventually devolves into jokes about Twilight and having to choose between Edward or Jacob.
There's also a fairly set of funny comic images where JoJo's Bizarre Adventure is replaced with the squid kids from Splatoon. A lot of people seem to be divided, however, on whether or not to choose werewolves or vampires.
This has been an ongoing event for the past few months, where Nintendo will put two opposing objects against each other and then have the inklings battle it out in the arena for their respective side. We've seen things like hamburgers versus hotdogs, and we've also seen fun items like ice cream versus cake, and the very popular superhero showdown between invisibility versus flight.
Many of these Splatfests are designed to get fanboys and fangirls from either side all riled up and motivated to participate in the weekend tournaments.
Nintendo has plans on supporting these Splatfests over the course of the next year, so there will be plenty of reasons to dive in and have fun, if you can find the time to do so. Splatoon 2 has been a smash hit success since releasing this past July, and Nintendo hopes to keep the momentum going throughout the fall season with more fun-filled Splatfests.
Your Daily Blend of Entertainment News
Staff Writer at CinemaBlend.