JoJo's Bizarre Adventure HD Arrives This August For PSN, XBLA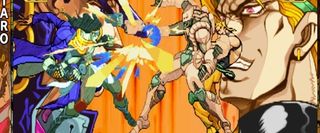 Capcom's classic DreamCast title, JoJo's Bizarre Adventure is getting a high-definition makeover and coming to current generation consoles for the Xbox Live Arcade and the PlayStation Network beginning late August.
JoJo's Bizarre Adventure originally released to a lot of mixed reviews over its oddly diverse character selection and strange fighting mechanics, JoJo's wasn't the typical run-of-the-mill fighting game and it's one of the very things that helped carve out its own little niche as a bizarre and duly loved fighting game with a weird cast of characters.
As stated in the press release...
Some of the new functions for the re-release of the Dreamcast version include a new video mode so players can record and share fights with friends and rivals, and the all new multiplayer lobby mode makes it easy to find games, pair up against players from around the world or find competition in order to test or hone your fighting skills. The addition of Battle Points also makes it convenient to level-up and have your name plastered all over the leaderboards, so everyone can know just how bizarrely good you are.
You can look for JoJo's Bizarre Adventure HD to land on digital e-tailer shelves beginning August 21st for the PlayStation Network at the $19.99 price point and for 1600 MS Points beginning August 22nd. For more info feel free to visit the Official Capcom Website.
Your Daily Blend of Entertainment News
Staff Writer at CinemaBlend.
Your Daily Blend of Entertainment News
Thank you for signing up to CinemaBlend. You will receive a verification email shortly.
There was a problem. Please refresh the page and try again.