Assassin's Creed: Origins PC Specs Revealed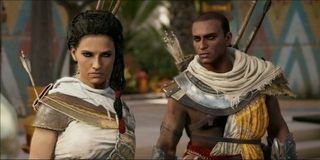 (Image credit: Ubisoft)
Ubisoft's Assassin's Creed: Origins is fast approaching its release, and gamers are beginning to scope out whether or not they'll want to get it for home console or PC. Well, one way to make that decision easier is with the newly posted PC specs that give you an idea as to whether or not your rig can handle the game.
Gamespot spotted the new specifications for the PC version of Assassin's Creed: Origins, giving gamers a heads up on the minimum and recommended specs to run the game at standard resolutions and moderate frame-rates or high-end resolutions and high settings.
The minimum system requirements were outed for the open-world, action-adventure game, starting with a OS requirement of Windows 7 or higher. You will need a 64-bit operating system because the RAM requirement is at a bare minimum of 6GB. For those of you not in the know, 32-bit systems can't access more than 4GB of RAM, even if you have more installed. You'll also need an Intel Core i5 at 2.5GHz or an AMD FX-6350 at 3.9GHz if you want to run the game. A GTX 660 or AMD R9 270 will be required on the GPU front. These stats will net you 720p output with 30fps at the very lowest video preset settings.
For the recommended system specs you'll still need a 64-bit OS running Windows 7 or higher. You'll also need an Intel Core i7-3770 at 3.5GHz or higher, or an AMD FX-8350 at 4.0GHz. Your video card requirements will also be fairly hefty, requiring a GTX 760 or an AMD Ri 280X with 3GB of video RAM or higher. You'll also need 8GB of RAM. What sort of performance will these specs net you? 1920 x 1080p resolution with high graphics settings.
You'll need an even beefier rig if you want to play Assassin's Creed: Origins at 4K and 30fps on the highest settings... such as a GTX 1080 and 16GB of RAM.
The Gamespot article details how the PC version has been specially designed by the Ubisoft Kiev branch. According to the coordinating producer on Assassin's Creed: Origins, Jose Araiza, the team have been developing the PC version "in parallel" with the Xbox One and PS4 versions that were being worked on by Ubisoft Montreal.
According to Araiza, Ubisoft Kiev attempted to keep the performance of Assassin's Creed: Origins on par with the minimum specs of Assassin's Creed: Syndicate, which launched two years ago.
The thought process behind this was that Ubisoft wanted to be able to support more machines, and thus in turn support a wider variety of PC gamers. This should greatly expand the possible sales trajectory for the game on the PC platform.
It's an interesting approach to the game on PC, given that some developers have actually found success pushing the requirements as high as possible, which is how Crytek garnered lots of success with the original Crysis.
Anyway, unlike the previous Assassin's Creed games that have released in recent years, you won't have to wait for the game to be appear on PC. All three versions will be available starting October 27th.
Your Daily Blend of Entertainment News
Staff Writer at CinemaBlend.