What That Timer Means In Wolfenstein II: The New Colossus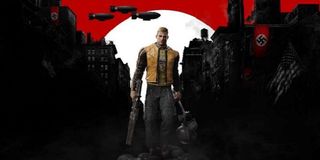 If you've tooled around in the menu for Wolfenstein II: The New Colossus, you've likely noticed that alongside standard options such as Continue, New Game, Extras and Options, there's a spot for a mysterious "Vault" with a countdown attached. According to Bethesda, that timer is leading to several surprises.
The folks over at Gameinformer already did the math for the Vault timer in the Wolfenstein II menu, pointing out that it runs out on Nov. 7, which is less than two weeks off. They reached out to Bethesda about the meaning of the timer, and the publisher was at least halfway forthcoming with a response.
For starters, yes, they said that the timer is counting down to the launch of the game's first piece of DLC, part of The Freedom Chronicles. However, they added that some additional surprises have been hidden in the vault, but they gave not one clue as to what those surprises may be. We're certainly eager to find out and, thankfully, we won't have to wait too long to do exactly that.
As for the DLC, Bethesda has already outlined some of the fresh content coming to Wolfenstein II. The Freedom Chronicles is a set of three story-driven additions to the campaign, each of which boasts a new playable character. The idea was that players would be able to explore and learn more about the game world in Wolfie II, and what we've heard so far sounds like it's full of pulpy goodness.
The first of these Chronicles revealed by Bethesda (so we assume the one set to launch on Nov. 7), is called "The Adventures of Gunslinger Joe." You'll take on the role of former quarterback Joseph Stallion, who will be tackling the Nazi threat in both Chicago and, um, space.
The second chapter is called "The Diaries of Agent Silent Death." In this chapter, you'll play Jessica Valiant, an ex-OSS agent who is trying to sneak into a Nazi base in California to uncover all of the secrets behind "Operation San Andreas."
Finally, there's "The Amazing Deeds of Captain Wilkins." Hero of the US Army, Captain Gerald Wilkins is heading to Alaska to square off against the Nazis and try to put a halt to Operation Black Sun.
In short, you'll be doing a lot of bad things to even more Nazis in the coming months, so get ready to keep diving back into Wolfenstein II for additional adventures.
As for those "surprises" Bethesda was hinting at in the Vault, what do you readers think they could be? Are you expecting new skins and guns, or maybe some game-altering new options. Perhaps there's a boss rush mode or speedrun options? Your guess is as good as ours, so feel free to share them in the comments below.
Your Daily Blend of Entertainment News
Staff Writer for CinemaBlend.