Wolfenstein: The New Order Is Getting A Sequel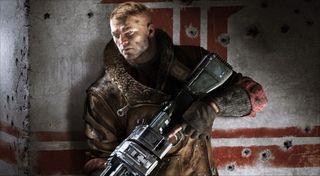 Machine Games and Bethesda managed to knock the ball out of the park with their home run win in Wolfenstein: The New Order and its prequel Wolfenstein: The Old Blood. Fans of both games might be pleased to know that a sequel is in the works, according to a leak from a voice actress working on the game.
Eurogamer is reporting that polish actress Alicja Bachleda-Curu? has mentioned during an interview with Polish news station TVN that she is returning for a sequel to Wolfenstein: The New Order, where she played the character of Anya Oliwa. In the interview she stated...
I think we were all happy when we got to the point where we got to shoot Hitler and then shoot him again after he became Mecha-Hitler.
Unfortunately Wolfenstein: The New Order didn't feature a battle with Hitler but it might be coming in the sequel. If Machine Games and Bethesda were smart they would have Mecha-Hitler in the sequel and then Zombie Hitler in the third and final part of the series. This way you cover both robots and zombies... and if they really want to go there, they can drop in some inter-dimensional beings to round out the trifecta of robots, zombies and aliens.
Anyway, Wolfenstein: The New Order was an alternate take on the old first-person shooter franchise, putting players in the role of BJ Blazcowicz but he failed to stop the Nazis and they ended up taking over the world. Players basically battle through a Nazis-ruled world with alternative weapons and gadgets.
The game and its prequel were both heralded for reinvigorating the story-driven first-person shooter genre. It was a bold move by both Bethesda and Machine Games because the original Wolfenstein 3D was not a story-driven game at all unless you count the descriptions between each episode. It was mostly just a run-and-gun kind of game, but Machine Games took that core concept and slapped some character development and story elements onto it.
Besides, if you really wanted a brainless run-and-gun game id Software is rebooting Doom in 2016 and it's shaping up to be a glorious looking outing.
As for the sequel to Wolfenstein: The New Order, I do wonder how Bethesda is handling one of their voice actors outing the sequel before it was officially announced? That's breaking some serious protocol right there. I also wonder how this will affect the potential voice actor strike that the SAG wants to get going?
Anyway, fans of Wolfenstein should be happy to know that a sequel is at least in the works. I imagine Bethesda will want to give Doom some breathing room so don't expect to see the story-driven FPS sequel land on store shelves until probably late 2016 at its earliest or more likely sometime in 2017 at its latest.
Your Daily Blend of Entertainment News
Staff Writer at CinemaBlend.
Your Daily Blend of Entertainment News
Thank you for signing up to CinemaBlend. You will receive a verification email shortly.
There was a problem. Please refresh the page and try again.