Here's What's Coming To Xbox Game Pass In November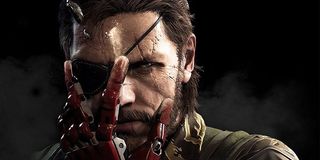 Xbox Game Pass is gearing up to add seven new titles to its digital library, including a little something from series like Metal Gear, Halo, Resident Evil and even Mega Man. The best part is that they all go live in less than 24 hours.
Microsoft has announced another collection of games to be added to the Game Pass service, all joining the lineup on Nov. 1. Here's a quick rundown of the latest offerings.
Metal Gear Solid V: The Phantom Pain
Halo Wars Definitive Edition
Resident Evil HD
Oddworld: New 'n' Tasty
The World of Van Helsing: Deathtrap
Mega Man 9
Sky Force Anniversary
Those seven games are joining a roster of more than 100 titles already included in the Game Pass service. If you're not familiar with Game Pass, it's basically Microsoft's subscription service that lets you have unlimited access to the included games. The idea is that, if you're not too worried about playing exclusively the latest and greatest titles, something like this can keep you plenty busy with games for a monthly fee of about $10. There's a two-week free trial available, in case you want to give it a shot.
The above titles join an already impressive lineup of games including everything from Bioshock Infinite and Halo 5 to Mad Max, Payday 2 and even indie darlings like Terraria. With the addition of these seven new Game Pass titles and the recent launch of original Xbox backwards compatibility on the Xbox One, it seems like Microsoft's plan for the holiday season is to really push old-school gaming.
That's not to say all of these new Game Pass offerings are all that old. The Phantom Pain, for instance, is only a couple of years old and should probably be on everybody's "to play" list. And if you never gave games like Halo Wars a try, now is a pretty good time to see what it has to offer. And while today is Halloween, this is still some good timing to get in a run through Resident Evil HD if you feel like staying in the holiday spirit just a little bit longer.
I also feel the need to throw in a special nod for Oddworld: New 'n' Tasty, a lovingly updated version of one of the best games the original PlayStation had to offer. It's all about goofy interactions, platforming puzzles and exploring a bizarre alien world, and it's a heck of a lot of fun to boot. As an added bonus, Oddworld may be the first game to feature a sort of morality gauge that actually impacts the end of the game.
So what do you think about this latest addition to the Game Pass collection? If you're a subscriber, do you feel like you're getting your money's worth? Let us know your thoughts in the comments below.
Your Daily Blend of Entertainment News
Staff Writer for CinemaBlend.