How Assassin's Creed Is Helping Northern California Fire Relief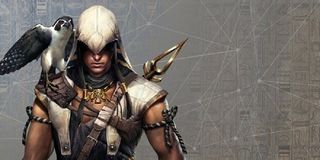 If you're looking to support victims of the recent fires in Northern California, the folks at Ubisoft San Francisco have put together a special promotion that will allow you to do exactly that, as well as up your Assassin's Creed swag game.
Obviously, Ubisoft San Francisco knows a thing or two about the devastating fires in California. As such, they've designed a couple of Assassin's Creed items to sell, with 100 percent of proceeds going to the North Bay Fire Relief Fund.
The items up for grabs are a shirt and a hoodie, the former black and the latter more of a charcoal color. They sport the same logo, though, an image of the Golden Gate Bridge with the Assassin's Creed logo wrapped around it. That's accompanied by a "Norcal Strong" logo and, honestly, they both look pretty rad.
If that's something you're interested in, you can purchase the items on the official website. The shirt is going for $25 and the hoodie will set you back $50. Both items will be available through December 31, 2017. Just an idea, but these might make great holiday gift ideas for friends who enjoy the Assassin's Creed series. Not only do they get a cool shirt, but you can tell them that the funds used to purchase it went directly to relief efforts for those affected by the fires.
According to a press release from the Ubisoft team, these fires hit close to home. President Laurent Detoc said that the sale of these shirts is just one way the team felt they could do something to help.
Obviously, we're big fans of developers stepping in to help out in times of need. While not all fundraising efforts go off so smoothly, it looks like Ubisoft San Francisco's plan is a solid one. Again, they're not making a penny off of these shirts and they're not even donating just the "profits" after the production of the shirts has been paid for.
Stuff like this also helps to remind us that these games we play and love so much aren't just churned out by machines. These are real people, who live their own lives, and sometimes those lives are impacted by tragedy. So, again, it's cool to see a team step up like this and go the extra mile to help out those in need.
As for what the team itself has been up to lately, we imagine Assassin's Creed: Origins has been keeping everyone at Ubisoft very, very busy. The latest game in the storied franchise only launched a couple of weeks ago but, by all accounts, it seems to be doing pretty well for itself. Ubi San Fran's latest project, specifically, is South Park: The Fractured But Whole, which folks also seem to be enjoying quite a bit.
Staff Writer for CinemaBlend.
Your Daily Blend of Entertainment News
Thank you for signing up to CinemaBlend. You will receive a verification email shortly.
There was a problem. Please refresh the page and try again.