The Script For South Park: The Fractured But Whole Is Massive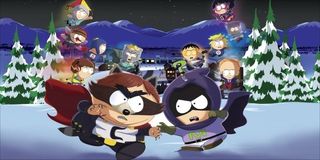 (Image credit: Ubisoft)
Trey Parker and Matt Stone may take pleasure in creating irreverent humor with the South Park franchise, but the duo were also in charge of creating the script for the upcoming South Park: The Fractured But Whole, and they revealed that it's absolutely massive.
Speaking with The Hollywood Reporter, Parker explained to the outlet that the game's script is the length of two feature films, saying...
It's no surprise that the game's script would be that large. But, how much playtime do you get out of a script the length of two feature-length Hollywood films? Well, a lot.
According to Matt Stone, he managed to get in full play sessions with the finished version of South Park: The Fractured But Whole and it took him a considerable amount of time to beat... 12 hours to be exact.
So, if we do a little bit of the math, a feature-length film is usually anywhere between 90 minutes to two hours. So if we go with the 90 minutes -- that means we're looking at three hours worth of game-time going toward the script. If we go with the two hour variable, then it means that there's four hours worth of game-time going toward the script. What this means is that at the minimum three hours out of the 12 hours would be dedicated to talking and chatter, while at the top end of the range four hours may be dedicated to cinematics, talking, banter and chatter. Either way, gamers are looking at anywhere between eight to nine hours worth of pure gameplay.
No matter how you cut it, though, Stone revealed in the interview that South Park: The Fractured But Whole has a script that's larger than South Park: The Stick of Truth. He explains...
Stone goes on to say that it was the extension of the script and the development of new gameplay mechanics tying into the script that caused a lot of the hiccups and delays in the production as they worked with Ubisoft to get it all ironed out.
At times the script was a bit behind and at other times the gameplay was a bit behind. For the duo it was a lot more complicated than simply going back and changing an animation or two like they do with the show; for video games it's a lot larger and more complex, involving a more collaborative effort between designers, artists and writers in order to pull off any significant changes that affect all three areas of a video game.
Thankfully, Matt Stone and Trey Parker managed to get everything settled in nice and neat with Ubisoft for South Park: The Fractured But Whole, and with the game having gone gold a few weeks ago, it's now scheduled to launch for PC, PS4 and Xbox One next week, on October 17th.
Staff Writer at CinemaBlend.
Your Daily Blend of Entertainment News
Thank you for signing up to CinemaBlend. You will receive a verification email shortly.
There was a problem. Please refresh the page and try again.