Splatoon 2 Is Getting A Massive New Update This Week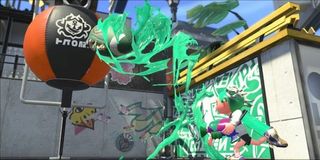 (Image credit: Nintendo)
Nintendo has big plans for Splatoon 2 owners currently having fun and making splat designs via the Nintendo Switch exclusive. The massive update is set to arrive this week with all new content, all new modes, and all new customization content for players to utilize in order to improve their Inkling.
The update is set to arrive for Nintendo Switch owners on November 23rd, and the game will receive a brand new stage for the Salmon Run mode, along with new gear to use, new hairstyles, and new battle stages.
The update arrives in time for Black Friday, with four new battle stages that will be available over the course of several weeks throughout the holiday season. The first stage, called MakoMart, will launch on Black Friday, November 24th. This will be followed by the release of the Shellendorf Institute next, with Walleye Warehouse dropping after that and gamers getting Arowana Mall last.
The new Salmon Run stage is called Salmonid Smokeyard and it's being added to the Salmon Run playlist rotation where players will have to deal with a beach divided by two upper platforms. Salmon Run is a horde mode that allows multiple players to team up together and fight off the incoming hordes of salmon. It requires a lot of teamwork and effort, and it's not easy.
To help you out with the new Salmon Run mode in Splatoon 2 is a bevy of new gear pieces to help upgrade your character and modify their stats. Nintendo announced that there are 140 new pieces of gear being added to the update that adds shoes, headgear, and clothes. The new gear is not only brand new to the game but the designers also decided to bring back some of the classic items from the first Splatoon as well. Some of the gear in the game actually enables you to boost certain stats, so, depending on how you want to outfit and sculpt the play-style of your Inkling, it can be modified based on what they're wearing. In this case, how you look is sometimes just as important as how you'll be able to play.
And, speaking of looks, the developers have added four all new hairstyles to the game, including two new hairstyles for the males and two new styles for the females.
You'll also be able to level up even further thanks to the level cap increase to 99. That's right, you'll be able to gain 49 new levels for your Inkling once the update drops on November 23rd for Splatoon 2. What's more is that there's even a new level+ that will be implemented, so that once players hit level 99 they can reset their rank to star level 1 and continue ranking up.
Having all new looks and all new stages to play across is nice, but the developers didn't stop there. Splatoon 2 will also be on the receiving end of two brand new songs, one of which is a punk-themed tune from the Bottom Feeders and an avant-garde piece from Ink Theory.
The November 23rd update will be followed by a mid-December update for Splatoon 2 as well, adding new competitive features and gameplay updates to keep the fun rolling and splatting for Nintendo Switch owners up through the holiday season. You can also keep track of the new updates via the mobile app that's available through the official website.
Staff Writer at CinemaBlend.
Your Daily Blend of Entertainment News
Thank you for signing up to CinemaBlend. You will receive a verification email shortly.
There was a problem. Please refresh the page and try again.