How Steam Plans To Deal With Review Bombing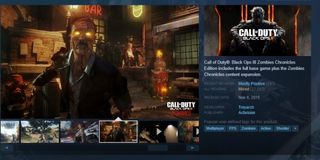 (Image credit: Valve)
When a game or a developer crosses a line that enrages and angers the community, there aren't many options available for gamers to exercise other than e-mails, tweets... or review bombing. Well, Valve has been tweaking how the review system works on Steam, as well as how people react and respond to reviews that are designed to make poignant statements about the game as a service or the developer and any ensuing antics.
Over on the official Steam community page there's a lengthy post about the way Valve will be addressing "helpful reviews" on the pages for each game. The company will be changing up how reviews appear on the pages by, first of all, showing the amount of reviews (positive or negative) relative to the game's user rating. So, if a game has a 50% (or mixed) rating, half of the reviews that first appear on the page will be positive and the other half negative. If a game has a much higher percentage -- such as an 80% or 90% positive rating -- a majority of the reviews highlighted at the top of the page will represent the rating.
This is in response to some games having ratings that aren't represented by the reviews upvoted the most at the bottom of the store page. Some games may have highly positive ratings but there might only be negative reviews displayed on the page. Valve explained that some gamers disproportionately upvote or downvote reviews to manipulate the results. Sometimes it's in result of activism, other times it's in result of fanboyism, and in some cases it could be bot manipulation.
This will be coupled with a new system in how "Helpful Reviews" are rated on the page. Valve will be adding a weighing system to the users who click on whether or not a review is "Helpful." Some users who have inordinate or botlike tendencies for rating user reviews will have less weight counted toward their vote for a review being helpful or not.
This was in response to some games being review bombed (sometimes with very positive reviews and sometimes with very negative reviews) where users would upvote reviews as being "Helpful" even when, sometimes, the reviews themselves were not necessarily detailed or thorough. In some cases, there are games that have short review blurbs briefly explaining why it might be getting review bombed, such as a DLC practice, DRM, or some other out-of-game experience or statement or policy put forward by the developer or the parent company. We saw this recently with Grand Theft Auto V, where a lot of gamers review bombed the title when Take-Two Interactive attempted to ban single-player mods. The reviews didn't necessarily inform gamers about whether or not GTA V on Steam was good or not, but it was about informing them about the mod bans.
Valve is mostly aiming to make it that gamers will not only be able to see why a game is getting review bombed courtesy of the histogram chart, but also find out whether or not the game is actually good outside of the review bombs itself.
It's a tricky balancing act, but Valve hopes to make things as clear as possible for consumers moving forward. The new review setup is currently in limited beta testing ahead of a public roll out at a later date.
Staff Writer at CinemaBlend.
Your Daily Blend of Entertainment News
Thank you for signing up to CinemaBlend. You will receive a verification email shortly.
There was a problem. Please refresh the page and try again.