Marvel Heroes Shuts Down Early, Lays Off Entire Development Team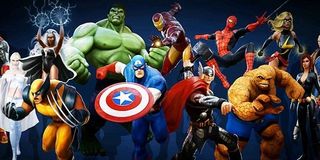 We announced earlier this week that developer Gazillion would be shutting down Marvel Heroes, the Diablo-style MMO sporting a cast of, you guessed it, Marvel heroes. But while the switch was supposed to be flipped at the conclusion of 2017, we've learned that the studio has moved the closure date to this week and, even worse, it appears the entire staff has been let go.
As reported earlier this week, Disney decided to pull the plug on Marvel Heroes, a game developed and run by the team at Gazillion. The game's been around on PC for quite a few years and only launched on PlayStation 4 and Xbox One about six months ago. A free-to-play online bash-em-up, players could explore the world, unlock new characters, find new gear, etc. Real-world money could be spent on items and additional unlocks, as well as individual characters.
We knew that trouble was brewing in recent months as Marvel Heroes failed to celebrate a couple of its staple activities. Tie-in content for movies like Thor: Ragnarok never showed up and the Halloween event never took place. A couple of employees appeared to go quietly missing in action, the CEO left, etc.
Then came the announcement that the game would indeed be shutting down sometime near the end of the year. However, Gameinformer is reporting on a series of events yesterday that makes it look like the entire team at Gazillion was let go the day before Thanksgiving. Gazillion has not confirmed anything yet, which is why this is still be treated like a rumor, but when you've got messages about the impending closure on the Marvel Heroes Discord channel and various employees tweeting about the sudden and unexpected closure, it's hard not to just assume this one is right on the money.
Based on the semi-announcement, Marvel Heroes will now be shutting down on Nov. 24, which is tomorrow. That's a pretty crappy thing to do to the game's fans, as it's a month earlier than we were told to anticipate. Even so, we encourage everyone to think instead about the men and women who just had their livelihoods cut off. As noted in the tweet above, they were told shop would close after the holidays and, instead, they've been given the ax the day before the holidays get rolling. To make matters even worse, this includes no PTO (paid time off), severance of any kind and medical insurance that dries up in about a week.
As noted in the tweet above, many console fans are demanding refunds for any money they've spent in the game. You don't typically launch an online title, have people spend money on it and then shut it down on them six months later, after all. Still, maybe don't take it out on the people who were doing their best to deliver a great game. They had no control over the situation and, again, they just got tossed out of their jobs in one of the worst ways imaginable.
Your Daily Blend of Entertainment News
Staff Writer for CinemaBlend.