Gazillion Plans Marvel MMO's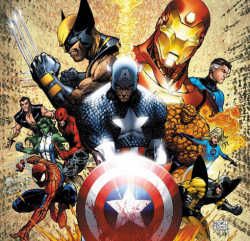 If you're looking to fight alongside Wolverine in an MMO, consider Gazillion your dealer. They've locked up the rights to produce massive multiplayer online games based on the Marvel Universe for the next ten years.
According to VentureBeat, their first Marvel project will be based on the new Marvel TV show Super Hero Squad. The kid-oriented show will debut on Cartoon Network in the fall and the MMO will be released in 2010. Gazillion is also currently working on LEGO Universe so they're apparently convinced that there's money to be made with MMO's targeting younger audiences.
Older Marvel fans aren't being left in the cold, though. The VentureBeat article notes that Gazillion will also develop a game called Marvel Universe. No release window was provided for it but they're planning to create both console and PC versions. Hope it turns out better than the last attempt at a Marvel MMO.
Staff Writer at CinemaBlend.
Your Daily Blend of Entertainment News
Thank you for signing up to CinemaBlend. You will receive a verification email shortly.
There was a problem. Please refresh the page and try again.