New Super Mario Cereal Is An Amiibo, Because Of Course It Is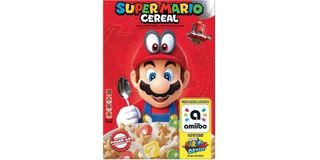 (Image credit: Kellogg's)
Nintendo seems to be on a resurgence lately in a big way. The company managed to dominate the hardware sales charts this year, and also roll out some of the biggest exclusives on a platform in 2017. Well, what is Nintendo looking to conquer next? Cereal. But of course, simply making the cereal isn't enough, the box is apparently also an amibo.
There's a new Super Mario themed cereal inbound courtesy of Kellogg's. The cereal is launching now at Walmart, Target and other participating commercial outlets.
The real hook for the cereal, however, is that it also doubles as an Amiibo. That's right, when you purchase the cereal you can use it on your Nintendo Switch to unlock special goodies in Super Mario Odyssey.
So what does the Amiibo that doubles as a cereal box unlock? According to Nintendo, the box can be used to give you some additional coins or an extra heart.
Kellogg's also confirmed to Cerealously that not everyone will gain access to the Amiibo cereal boxes. According to a representative for Kellogg's, it was mentioned to the outlet that only a select number of boxes will work as an Amiibo
So this means that you may have to work fast and get your hands on the cereal that contains the amiibo sticker.
Basically, you flip the box over on the backside, where there's a Super Mario-themed maze puzzle and a few quizzes, with the Amiibo sticker scanner located at the bottom right-hand corner of the box.
The cereal itself is marshmallow-themed with various red and green mushroom-shaped marshmallows intermixed with some various colored item boxes as well.
It's basically a Super Mario version of Lucky Charms. It reminds me of the old television cartoon that used to come on way back in the 1980s.
Anyway, this is just another tie-in for the growing popularity of Super Mario Galaxy. The game just recently released at the end of October and it's already making some big waves on the Nintendo Switch as one of the fall's premiere AAA exclusives.
One of the gimmicks of the game is that Mario is accompanied by Cappy, a sentient hat that can "capture" other objects and entities, allowing players to take control of them once Cappy has captured them. The game also has a unique cooperative mode as well, allowing a second player to use the second Joy-Con to control Cappy. I'm not sure exactly what cereal Amiibo will do, but it's an inventive way to not only get people to check out Super Mario Odyssey, but also buy the new cereal, too.
Your Daily Blend of Entertainment News
Staff Writer at CinemaBlend.